By Chris Stonor
Draganfly, a leading drone solutions and systems developer, announced this week a collaboration with Women And Drones, the global platform for women who are "disrupting, innovating and shaping the future of STEM and aviation", reports a press release.
Women And Drones is a membership organisation "dedicated to driving excellence in the uncrewed aircraft systems (UAS) and Advance Air Mobility (AAM) industry by advocating for female participation in this dynamic segment of the global economy." From 2018 to 2021, the organisation has been named one of the top companies to watch in the UAS industry.

According to evtol.com, data shows that women are still severely under-represented in the drone industry. As of June 2021, no-more than 6.7 percent of drone pilots registered by the Federal Aviation Administration (FAA) are women.
Cameron Chell, CEO of Draganfly, commented, "Draganfly is thrilled to be working with Women And Drones to support and elevate women in the UAS and AAM industry. Our company was built on inclusivity and a passion for creating the world's best drone solutions. Diversity is crucial to the success and growth of this important segment of the global economy."
Sharon Rossmark, CEO of Women And Drones, added, "It is an honour to partner with Draganfly. Together, we look forward to bolstering diversity, equity and inclusion in the drone industry, which will improve business outputs and profitability."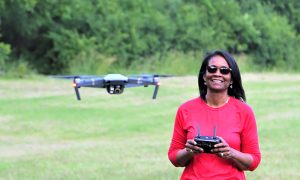 Sharon Rossmark
Footnote
Women And Drones collaborate with companies committed to an inclusive culture where women can thrive. Its educational programs range from kindergarten to career in efforts to balance the gender equation in the industry now, as well as for the future of flight. The organisation offers Drone Flight Services including aerial imagery and drone product beta testing.
For more information