By Chris Stonor
Electroflight announced last month a partnership with Swedish aerospace start-up Heart Aerospace alongside regulatory and compliance experts Bains Simonds, to develop a battery system to power a new, all-electric regional airliner the ES-19, reports a company press release.
The partnership has secured over EUR1.5m in funding under a joint UK/Swedish government scheme known as the EUREKA Initiative, aimed to encourage co-operative R&D projects. A High Energy Propulsion Battery System (HEPBAS), currently being developed by Electroflight, is a bespoke, high-integrity battery designed to be aerospace certifiable for flight.

The project will design, build and ground test the innovative High Energy Propulsion Battery System (HEPBAS) prototype being developed by Electroflight. It is a high energy battery pack that includes a battery management system (BMS) and onboard charger. The aim is to interface this HEPBAS system with a ground test rig to develop the aircraft's electric drivetrain.
Douglas Campbell, Technical Director, Electroflight, commented, "This is an extremely exciting partnership program and one which perfectly aligns with our shared vision to advance electric aircraft technologies for commercial aviation applications."
He continued, "The Energy Storage Systems being developed for the Heart ES-19 platform use all of the know-how we've built up from ACCEL (world's fastest all-electric aircraft) and other cutting-edge aerospace electrification programs, enabling us to meet stringent EASA certification requirements around safety, containment, thermal management and monitoring via our battery management system."
The ES-19, which is under development by Heart Aerospace, will be capable of carrying 19 passengers up to 400 kilometres, powered by four electric engines and fed by the new battery system. Able to operate from the shorter runways typically found at regional town and city airports, the ES-19 is scheduled to enter service from 2026.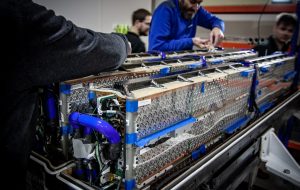 Campbell said, "At first flight, this could well be the largest certifiable battery system in existence. Achieving this sort of breakthrough in electric aviation technology during such a disrupted and challenging year shows the incredible resilience and innovation in our industry. We are proud to be a part of this ground-breaking project and can assure everyone there is plenty more to come in the near future."
Design and development of the new battery pack will take place at Electroflight's facility at Gloucester Airport in the UK. The company has a history of design and development of high-integrity battery systems and is currently working alongside Rolls-Royce to develop and build the world's fastest all-electric aircraft.
Visual presentation
https://www.youtube.com/watch?v=FNPiVXQ7ihQ&feature=youtu.be&fbclid=IwAR2iZ7pnYQFKEmjuBAnpxDP-hQ2MJMEUQvjnt7B-W46lv2zc0R9FnXk08fU
For more information
https://www.electro-flight.com