By Chris Stonor
Thales, Drones-Centre and ZenT recently conducted a drone trial using hydrogen as the fuel cell. The tests demonstrated the craft's capacity to fly for at least two hours with a hydrogen fill-time of no longer than one minute, reports h2-view.com.
In addition to reducing the time between flights, the hydrogen drone delivered a consistent performance throughout each test which, in some cases, is not the norm with conventional battery-powered systems.
The trials had been organised to demonstrate the industrial and operational feasibility of the hydrogen drone that offers enhanced performance characteristics while protecting the environment.

H2-view explains, "Drones used in professional applications often need to combine operational efficiency with the highest levels of flight safety with its range capabilities and endurance recognised as a key criterion.
"Various propulsion technologies already meet these criteria, but hydrogen fuel cells are a particularly effective way to increase the drone's endurance due to the low mass and high energy density of hydrogen."
This new generation of hydrogen-powered drones will be capable of flying significantly longer missions that are not possible today. The craft can fly for up to three hours with a payload of 3kg, meeting the needs of 90 percent of all surveillance and industrial inspection applications.
Emmanuel Guyonnet, drone program director at Thales, said, "Hydrogen drone technology opens up new opportunities in applications such as surveillance of sensitive sites and military facilities."
He continued, "Equipped with ScaleFlyt operational safety technologies and integrated into Thales's security digital platform, hydrogen drones will be able to conduct complete missions drawing on high-reliability, affordable, easily deployable solutions."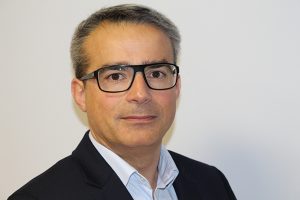 Emmanuel Guyonnet
Meanwhile, Hypower Lab, a company specialising in hydrogen fuel cell R&D, has completed the development of a hydrogen-powered drone for delivery as well as a design for a drone-specific fuel cell mass production system. The company has been participating in R&D of hydrogen fuel cells exclusively for drones with the Russian IPCP RAS, a hydrogen research centre.
This has seen the successful completion of the development of hydrogen fuel cells for drones allowing for future mass production after passing through various commercialisation tests. The mass production of these fuel cells could be created at a reasonable market price thanks to the joint effort in combining Russian hydrogen fuel cell technology with Korean AI technology.
Hypower states that the IPCP RAS has been highly recognised as one of the best hydrogen fuel cell research centres in Russia and Eastern Europe due to the various applications it has presented to be commercialised over the past 20 years.
The two groups will look at actively participating in the joint R&D of various hydrogen fuel cell applications as well as the establishment of a hydrogen cluster in South Korea and Russia.

Professor Yury Dobrovolsky, Scientist at Hypower Lab, said, "We will lead the popularisation of drone aircraft in the delivery drone commercialisation market that needs around 3 million commercial drones in 2025, by establishing the hydrogen fuel cell mass production system exclusively for drones in South Korea."
For more information
https://www.thalesgroup.com/en
https://www.facebook.com/power.hy.359
(News Source: https://www.h2-view.com)