By Chris Stonor
The car manufacturer, Jaguar, may be focused on Wimbledon at present, but the spirit of founder, William Lyons, remains at the heart of TATA.
The pioneering and revolutionary Lyons must be delighted that his marque is not only going electric under the name of I-PACE, but providing towing and support for a UK-led program hoping to claim the electric flight speed record later this year, with the Rolls-Royce 'Spirit of Innovation' team aiming for a target of 300+mph, reports a press release. Two long-standing competitors in partnership is something to behold.
The Rolls-Royce 'Spirit of Innovation' team has already completed key ground-testing and taxiing ahead of the first test flights in a few months, supported throughout by the I-PACE.
The electric aircraft was created by the  Accelerating the Electrification of Flight (ACCEL) program that includes key partners YASA, the electric motor and controller manufacturer and aviation start-up Electroflight.
Rob Watson, Director of Rolls-Royce Electrical, said, "Rolls-Royce and Jaguar Land Rover are UK pioneers, focused on advancing electrical technology for their respective sectors. We are delighted that Jaguar Land Rover are loaning us I-PACE vehicles as we bid to develop the world's fastest all-electric plane."
He continued, "It is important to us that the ACCEL programme was carbon neutral and this will be supported by having all-electric cars for ground-support."
"The Spirit of Innovation," explains the release, "features an electric motor propulsion system delivering 500hp+ with the most power-dense battery pack ever assembled for an aircraft providing enough energy to fuel 250 homes or fly London to Paris on a single charge."
And goes on, "The I-PACE uses two electric motors producing a total of 394hp with power delivered by a state-of-the-art 90kWh Lithium-ion battery featuring 432 pouch cells. Coincidentally, I-PACE is capable of 292 miles (WLTP) on a single charge – exactly the distance by road from London to Paris. With the ability to charge at 100kW, I-PACE drivers can add 78 miles of range in as little as 15 minutes."
Rawdon Glover, UK Jaguar Land Rover MD, said, "The I-PACE is a real pioneer. When it launched in 2018 it was the world's first premium all-electric SUV, establishing Jaguar as a leader in electrification and setting the brand on a path to become fully electric by 2025."
He continued, "We're delighted to be supporting another Great British innovator with the Spirit of Innovation team, as they look to bring electrified aviation into the nation's psyche with this incredible 300mph record."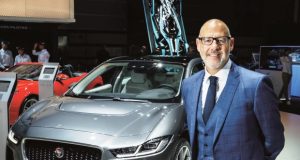 Rawdon Glover
Footnote
The ACCEL project highlights Rolls-Royce's commitment to ensuring new products are to be compatible with net zero operation by 2030, and all products by 2050.
Rolls-Royce is to employ the technology from ACCEL and other electrification activity to bring a portfolio of electric and hybrid-electric products into the urban air mobility, commuter and more-electric aircraft sectors.
For more information
https://www.jaguar.co.uk/jaguar-range/i-pace/index.html
https://www.rolls-royce.com/media/press-releases/2021/01-03-2021-rr-electric-spirit-of-innovation-powers-through-another-milestone-to-a-world-record.aspx