By Chris Stonor
Canadian companies KatloTech Communications and Electric Air & Marine (EAM) alongside subsidiaries have signed a 30 year partnership agreement to develop the country's next generation advanced aerial mobility "20g Air" network throughout West Canada, The Territories and Canada's Arctic North.

The release says, "20g Air will be designed specifically to support next generation universal AAM transport, and provide unique features and support Hel eCrane SESCAN and "50g Air" known as 'flying Hair' for specific cargo and emergency services transport to and from the ports of British Columbia." Katlo will be the exclusive network provider.
Additionally, a new Canadian company has been formed called AAM Networks under which Katlo will hold 60 percent and EAM 40 percent, through which all related IP for 20g and 50g AIR products and services will be developed held, sold and exported.
Arif Dewji, EAM CEO, said, "This partnership sets the stage to support thousands of highly unique skilled jobs in Western Canada and secures key support and infrastructure required for the company's further plans to deploy Canada's next generation hydrogen refueling and electric charging aircraft."
This covers both eVTOLs and ehVTOLS such as the Hel eCrane and Hel eCrane H2 aircraft and develop aerial delivery corridors to and from Canada's North & Territories, to the ports of British Columbia.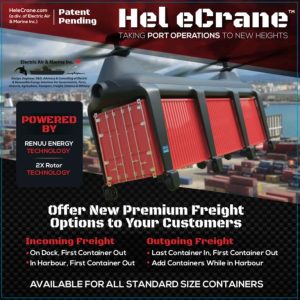 For more information