By Chris Stonor
SK Telecom (SKT) has joined an existing partnership, composed of Korea Airports Corporation, Hanwha Systems and the Korea Transport Institute, working on the commercialisation of Urban Air Mobility (UAM) in South Korea, reports futureiot.tech.
In an MoU announced this week, SKT are to trial and build communication network models for South Korean UAM. The company plans to create a communications environment, where stable and reliable connectivity between aircrafts and ground infrastructure is vital.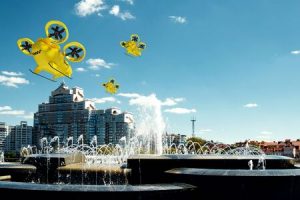 SKT will also develop an integrated UAM service platform to provide all related services, eg. booking, transit, etc. for customers, allowing them to efficiently travel to a destination by using various modes of transportation including UAM, bus, train and personal vehicles.
The Korea Airports Corporation will build and operate the infrastructure including vertiports and manage the air traffic, while Hanwha Systems are to develop UAM aircrafts as well as solutions for its traffic control and navigation. Finally, the Korea Transport Institute will conduct studies to forecast the demand and receptivity for urban air mobility.
As part of "UAM Team Korea", an industry-academia-research council and policy community launched by the Korean Government, the four partners will assist a rapid realisation of the government's UAM roadmap (locally known as the K-UAM Roadmap) through collaborative research and development in such areas including urban air mobility infrastructure, aircrafts, air traffic, demand and receptivity.