By Chris Stonor
Skyports has partnered with the Massachusetts Department of Transportation's (MassDOT) Aeronautics Division to demonstrate how its drone services can link communities across the Cape Cod region in U.S Massachusetts, reports a press release.
MassDOT is looking at drones as a solution to connecting its remote communities to everyday services such as healthcare and, in particular, to develop a capability to provide emergency medical delivery after storms or other natural disasters. The release explains, "The Cape Cod region contains numerous hard to reach communities including: islands, peninsulas and offshore energy projects where drones can provide an effective method of keeping these areas connected."

MassDOT already uses drones as part of its program to support the transportation infrastructure across its State including daily flights to support the Highway, Rail and Transit and Aeronautics Divisions, along with the Massachusetts Bay Transportation Authority (MBTA) that operates the subway and commuter rail lines.
The release continues, "These flights inspect rail track, document the health of wetlands near construction sites, and map highway and airport projects. As part of these efforts, MassDOT is also looking to expand its ability to perform complex drone operations such as BVLOS flight over rail and emergency delivery to remote communities."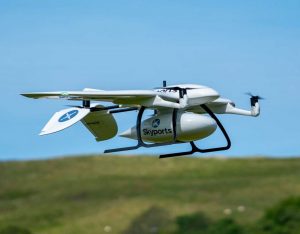 MassDOT turned to Skyports to help define the approach to delivery operations and to demonstrate such flights across Vineyard Sound, between Woods Hole on Cape Cod and the island of Martha's Vineyard.
Skyports presents an ideal solution to the problem, as its drones are capable of flying safely in harsh weather conditions and able to carry varied cargo payloads up to 100 lbs.
Also, the company has been granted approval by the Federal Aviation Administration to operate beyond visual line of sight (BVLOS) flights during a week-long feasibility project. The project will guide MassDOT as it explores broader BVLOS drone operations in Massachusetts, to perform services such as rail network and road inspections.
Dr Jeffrey DeCarlo, MassDOT Aeronautics Administrator, commented, "MassDOT is excited to be working with Skyports for this first delivery demonstration. We are exploring new drone use cases such as emergency delivery."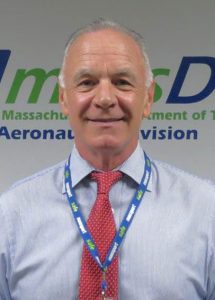 Dr Jeffrey DeCarlo
Alex Brown, Head of Drone Deliveries at Skyports, said, "Our belief at Skyports is that services such as healthcare should be accessible in a timely way for everyone regardless of where they live, which up-until-now has been a huge challenge for road transport in hard-to-reach areas. Drones really are transforming the logistics sector by bringing fast, frequent, reliable and affordable solutions." Adding, "This is just the first step in bringing BVLOS drone operations, including drone delivery services, to Massachusetts in the coming years."
During the project, Skyports will complete a series of trial flights and demonstrations to prove its operational reliability and technological capability. Following the completion of the project, Skyports plans to move into full scale permanent commercial operations in Massachusetts before expanding its operations across other states in the US.

Alex Brown
For more information
https://www.mass.gov/orgs/massachusetts-department-of-transportation