By Chris Stonor
UK Malvern-based DronePrep has been awarded an USD25k sponsorship from the Microsoft for Start-ups Program, reports a press release.
This program is a global concern dedicated to helping new companies successfully scale their business. It provides access to powerful technology including Azure and GitHub Enterprise coupled with a streamlined path to selling alongside Microsoft and the global partner ecosystem.
Claire Owen, Co-founder of DronePrep, said, "Our recently launched new platform has been built using Microsoft technologies and we couldn't be more excited to be working with Microsoft for Start-ups to enhance, grow and scale our software."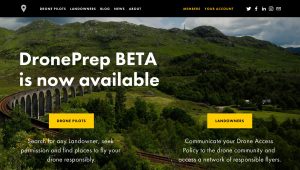 DronePrep's mission is "to inform the drone industry and recreational pilots where they can and cannot fly and to allow engagement between landowners and the drone community to open up opportunities for both groups." The company envisage that its platform will ultimately help define where it is possible to deliver drone highways in the sky.
DronePrep secured the sponsorship after an introduction arranged by Worcestershire technology accelerator BetaDen. The firm is based at Malvern Hills Science Park and provides early-stage technology businesses with a nine-month programme of support worth around UKP50,000. This includies 30 hours access to Worcestershire's 5G testbed, guidance from an industry partner with established supply chain networks, a UKP10,000 proof of concept grant, mentoring from BetaDen's handpicked team of commercial and technology experts and office space.
Owen continued, "BetaDen has played a huge part in our journey and has prepared us for the next stage of Droneprep's development. We can't wait to share the next stage of our journey with our fellow cohort members, investors and current and potential customers."
Visual presentation
https://www.youtube.com/watch?v=d55Y5KZC1ak
For more information