By Chris Stonor
Wisk and Alaka'i Technologies recently signed information exchange agreements with NASA that establish "mutually beneficial relationships to accelerate AAM operations as part of NASA's National Campaign", reports a website article written by Teresa Whiting, from the NASA Armstrong Flight Research Centre.
 Both partners now join other industry partners to prepare for "the first National Campaign (NC-1)" beginning in 2022 with intent "to assess operational safety scenarios focused on their respective automation and vehicle designs." NASA's Advanced Air Mobility (AAM) National Campaign (NC) and the Federal Aviation Administration (FAA) are working to integrate new aircraft into the National airspace.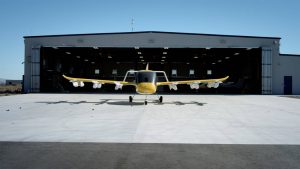 Wisk's autonomous all-electric vertical takeoff and landing vehicle (eVTOL) air taxi
The partnership aims to trial inventive urban air mobility (UAM) vehicles, or electric-powered vertical takeoff and landing vehicles (eVTOLs), to see how these designs can safely interact with other air traffic in the future.
Davis Hackenberg, AAM mission integration manager, said, "Our vehicle partnerships are critical to NASA and the industry success in AAM. These partnerships are the cornerstone of our data collection that will support standardisation, certification and eventually the operational approval for safe and scalable UAM operations."
Wisk's and Alak'i's all-electric eVTOL air taxis will soon be demonstrated via a series of flight trials. Wisk bring experience in eVTOL vehicle development with focus on a safety-first mindset, while Alaka'i (The craft is called Skai) brings new fuel-powered technologies as the eVTOL uses hydrogen.
The NC Integrated Dry Run Test scheduled for next month is the first step of this new project, which will use "a helicopter as a surrogate UAM to develop a data baseline for future flight testing."
Following this trial, a developmental test will follow in 2021 employing partner Joby Aviation's air taxi design to include activities such as designing flight scenarios for the participants to fly, exercising range deployment and data collecting protocols, to preparing for NC-1 in 2022.
These partners "will focus on demonstrating integrated operations through flight activities with vehicles and third-party airspace service providers at various locations in the national airspace system around the country."
For more information
https://www.nasa.gov/aamnationalcampaign
(News Source: https://www.nasa.gov)
(Front Photo: Alaka'i Technologies' eVTOL Skai)