By Chris Stonor
Terra Drone, a global drone services company, has hit the jackpot twice in Indonesia over recent months. First, the Directorate General of Civil Aviation permitted the company Beyond Visual Line of Sight (BVLOS) and now the same body has awarded Terra Drone a night time permit, reports commercialdroneprofessional.com. Although, it is for an initial trial.
This latest approval allows Terra Drone's C-Astral Bramor C4EYE  to operate in the dark. Drone flights at night are considered to be very risky, especially if carried out without sufficient operating experience.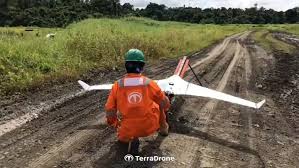 C-Astral Bramor C4EYE About to Launch
Michael Wishnu Wardana, CEO of Terra Drone Indonesia, commented, "We are the first drone operator to obtain this permit, so we think this will open up great opportunities for companies to offer more applicable use of drone technology, especially for security applications such as pipeline patrols, border patrols, and other similar applications."
Terra Drone Indonesia hopes that allowing such craft to be flown at night will open up opportunities for a wider use of drone technology, so that benefits can be gained by the industry.
The exemption permit requires Terra Drone Indonesia to always coordinate with the Directorate General on every aspect of flight as the permit is for trial purposes only. If successful, other unmanned craft operators could be awarded such approval.
Visual presentation
https://www.youtube.com/watch?v=GeLvvjV2Kfg
For more information
(News Source: https://www.commercialdroneprofessional.com)