By Chris Stonor
Some might say it is perverse that a pandemic responsible for killing – to date – 1.65 million people worldwide has been "the making" of the UK drone delivery industry, but from adversity comes strength and few other businesses apart from online shopping has benefitted more from the present chaos. The "drones for good" adage is now the industry backbone to combating this 21stcentury plague as healthcare takes centre stage.
Humanity is the master of adaptation and during an unprecedented lockdown starting in March, these "little heroes" arrived on the frontline, fast-tracking the industry's development by five or more years. Where an island nation like the UK typifies the craft's rapid ascent to the public's psyche.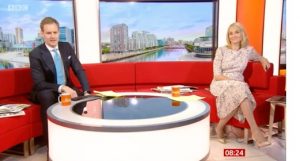 Once deemed as "mere toys", drones transformed into "saviours of the sky" carrying medical products like PPEs and Covid test kits and now vaccines to the Isle of Wight (IOW), the Isles of Scilly as well as more remote areas of Scotland. The Mainstream Media (MSM) latched on to this Transformer-like metamorphosis with unabashed relish.
After news first broke in early March of future planned trials to carry medical products by delivery drone between Southampton and the IOW, Friday, April 24th became a pivotal moment for this UK industry.
During the BBC TV daily evening Coronavirus briefing, Grant Shapps, Secretary of State for Transport, told millions of viewers that a planned trial to deliver medical supplies to the Isle of Wight (IOW) by drone would be "fast-tracked" and begin shortly.
On May 13th, the BBC via its widely viewed Breakfast Show, highlighted the Windracer Ultra inaugural flight between the mainland and the IOW. This close to four-minute segment included a film of the unmanned craft taking off and later landing. The slot was then repeated during the Primetime 6 O'clock News. Yet more millions of people watched this and the BBC being the BBC, had handed the UK drone delivery industry a solid stamp of establishment approval.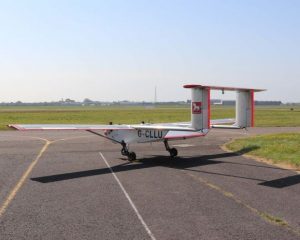 https://www.urbanairmobilitynews.com/medical-pharmaceutical-transport/uk-secretary-of-state-for-transport-fast-tracks-drone-trials-to-carry-medical-supplies-from-hampshire-to-the-isle-of-wight/
https://www.urbanairmobilitynews.com/medical-pharmaceutical-transport/watch-bbc-tv-report-on-uk-drone-delivering-medicines-to-iow-over-three-and-a-half-minutes-long/
Then, in early May, news broke that drone delivery company, Skyports, was planning trial flights of medical aid from the Scottish town of Oban to the Isle of Mull.
https://www.urbanairmobilitynews.com/medical-pharmaceutical-transport/drones-to-fly-nhs-kit-between-scotlands-oban-and-mull/
https://www.urbanairmobilitynews.com/medical-pharmaceutical-transport/watch-an-inspiring-4-minute-video-showing-the-recent-drone-delivery-trials-between-mainland-scotland-and-the-isle-of-mull/
Not to be outdone the Isles of Scilly off the Cornish Coast were next to curry favour. It was late August when this particular story emerged.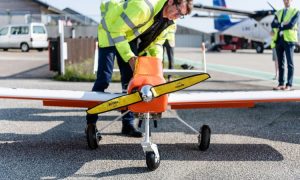 An organisation led by DronePrep, had been awarded EUR200,000 from the Government's Emergency Covid-19 Future Flight Fund to fast-track plans to establish a UAV/drone emergency medical air transport route between Cornwall and the Isles of Scilly. Just over three months later, the first flight took place between Land's End and St Mary's Island. The trial delivered NHS medical supplies and then returned with local produce including flowers, gin and clothes.
https://www.urbanairmobilitynews.com/medical-pharmaceutical-transport/covid-19-nhs-part-of-cornwall-to-isles-of-scilly-medical-drone-deliveries-trial/
https://www.urbanairmobilitynews.com/logistics/uks-inaugural-drone-freight-flight-takes-to-the-sky-between-lands-end-and-isles-of-scilly/
Meanwhile, the Irish drone delivery company, Manna, has been attracting as much mainstream publicity as its English counterparts. Led by Founder, CEO and self-confessed "serial entrepreneur", Bobby Healy, the company is presently part of a culture-changing drone delivery trial with supermarket giant Tesco in Ireland.
On September 10th, UAMN published an article explaining that Manna was to deliver Tesco food and small products to the residents of Oranmore in County Galway. Tesco's Innovation Director, Claire Lorains, was quoted as saying, "We're really interested to see how drones could become part of the on-demand small baskets delivery solution. If our trial with Manna is successful, we believe there is an opportunity to reach many more customers through our stores by using a drone service."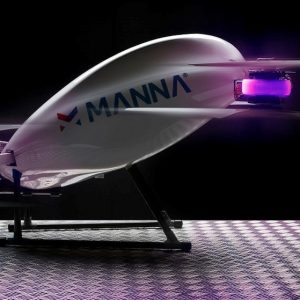 Six weeks later the testing began. Two months on, not only are the excited locals fully embracing this "future-present" trial, but are demanding such deliveries become the norm.
https://www.urbanairmobilitynews.com/express-delivery/uks-largest-retailer-soon-to-trial-drone-delivery-in-ireland/
https://www.urbanairmobilitynews.com/logistics/watch-video-manna-drone-delivery-offers-glimpse-of-operations-around-oranmore-county-galway-on-websummit/
UAMN was even honoured by the presence of Healy when he agreed to be interviewed. This frank and fascinating interview was published on October 15th under the heading, "We're absolutely swamped with love!"
https://www.urbanairmobilitynews.com/express-delivery/were-absolutely-swamped-with-love-bobby-healy-manna-aero/
Throughout the year UAMN has covered an increasing number of drone delivery breaking stories, where being involved with a developing new industry that is surfing the crest of an expanding wave, is always exciting and never dull.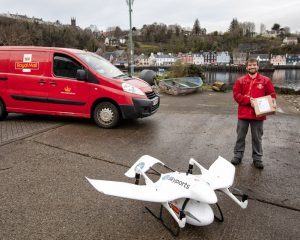 So, when news arrived on November 9th that the UK Government was investing an initial UKP7.35 million to fund the emerging drones "capable of delivering Covid-19 medical supplies to remote areas…", there was little surprise . The money is part of a broader UKP33.5m bounty "for ground-breaking UK aviation projects solving major global challenges."
https://www.urbanairmobilitynews.com/government-investment/the-drones-for-good-industry-are-first-to-share-ukp33-5-million-bounty-from-uk-government-for-ground-breaking-aviation-projects/
But the piece de resistance for 2020 was still to come. And what a Christmas gift this turned out to be. The December story developed so quickly that one blink and it was already surfing on the horizon.
The media learned on December 14th that the UKs world famous Royal Mail was planning to trial drones with the aim of delivering letters and small parcels to more remote areas of Britain. Not surprisingly, the MSM frothed in frenzied excitement at such a prospect. Yet, before the initial frothing had subsided, two days later, the Royal Mail reported that its first test using a Skyports drone to deliver a small parcel to a lighthouse on the Isle of Mull had been successful.
This dynamic news shot around the world like a double espresso. The implications for the UK drone delivery industry are huge. First, the Royal Mail next the Universe.
https://www.urbanairmobilitynews.com/logistics/uk-royal-mail-drones-to-fly-postal-deliveries-to-remote-areas-of-britain-imminently/
https://www.urbanairmobilitynews.com/express-delivery/uk-royal-mail-fast-track-first-trial-of-post-delivery-by-drone-already-takes-place/
2020 may go down in history as the world's worst "annus horribilis", not experienced since the years of WW2, but from darkness comes light and the UK "drones for good little heroes" have unequivocally come of age.