By Chris Stonor
It's that time of year to blow the dust off a crystal ball and take a peek at what may happen in 2021 concerning the eVTOL and drone industry. You don't need to be a clairvoyant to know the market will continue to grow and expand world-wide, partly caused by the continuation of Covid-19 and the associated lockdown measures.
Back in early 2020 some in the industry expected the pandemic to have a catastrophic effect on the large number of eVTOL start-ups seeking investment, reports ainonline.com, but as the year closed these fears were unfounded and while the 250 or so projects may have experienced a minimal slowdown, the acknowledged front-runners like E-Hang, Volocopter, Joby Aviation, Vertical Aerospace and Lilium amongst others, forged ahead and pulled further away from the pack.
This has led some commentators to believe that 2021 will see a marked separation of "the wheat from the chaff" where as few as twelve of these new types of craft will eventually see the commercial light of day. The marketeers reckon late 2023 could be the deadline for initial service entry, so scarcely 24 months away.
Regulations and the relaxing of them is vital for such ambitious expectations, where the regulatory outlook for these "new wave of aircraft" must become less opaque, giving programs a clearer path to type certification.
Certainly, as 2020 closed, there were optimistic signs that leading bodies, FAA and EASA, were edging closer to defining a safety means of compliance to cover new architectures and propulsion systems. Although, consensus on how to approve plans to operate these new aircraft autonomously still has a way to go.
This present progression favours fixed-wing designs using conventional or hybrid propulsion for which the technology risks of getting to market are lower.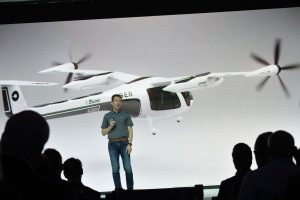 Meanwhile, due primarily to the pandemic, 2020 saw a major leap forward in drones operating over less densely populated areas. From the UK to the USA, Australia to Asia, trials increased as Wing, Manna, Volocopter, Skyports, Windracers and many others proved that delivering medical supplies, food, general products along with mail and parcels, has been not only successful, but warmly embraced by the public. Expect the same in 2021 especially when BVLOS becomes more common.
Another trend is the long-anticipated consolidation involving start-ups acquired by larger businesses. Last year began with a bang when Japanese carmaker Toyota shelled out USD394 million to become Joby Aviation's "sugar-daddy" as part of a USD590 million Series C funding round. No sooner had that occurred then Korean rival Hyundai announced an allocation of USD1.5 billion to buy a "hotseat in the eVTOL stakes" with a direct investment in a new aircraft program. And most recently Joby purchased Uber Elevate, Uber's Air Taxi division. Expect more of these musical chairs during 2021.
Previous UAMN Article about Joby and Uber Elevate:
https://www.urbanairmobilitynews.com/air-taxis/watch-video-latest-news-on-joby-aviation-purchase-of-uber-elevate/
Given the recent explosion of Zoom work-related calls, virtual drone webinars and the like, once the pandemic fades, perhaps, a new landscape is set, where business-led hotel and air travel will suffer, as more and more stay at home and attend meetings and conferences virtually.
Meanwhile, the impact of flying cars on society remains nebulous; research companies will continue to throw USD billions in the air to project their growth vision of the industry; and as increasing evidence of U.S election fraud grows, the new American President may still not be decided upon by the Spring. How might that affect the industry? Probably, very little.
(News Source: https://www.ainonline.com)