By Chris Stonor
Canadian-based, LifeLabs, announced this week it has partnered with a consortium to study how medical drone deliveries can improve the health care of rural and remote First Nations communities, reports a press release. The consortium include Drone Delivery Canada (DDC), Stellat'en First Nation, Village of Fraser Lake, the First Nations Health Authority (FHNA) and the Rural Coordination Centre of BC (RCCbc).
Chief Robert Michell of Stellat'en First Nation, commented, "This project is unique, for as a Native community, we're at the forefront of drone technology. It would be amazing in 10 years' time to see where this goes."
Charles Brown, President and CEO of LifeLabs, added, "New technologies can present opportunities to deliver health services closer to home, improving accessibility to certain medical support for people in remote and rural communities." The Drone Transport Initiative (DTI) is nearing completion of its first phase of trial flights carrying supplies and mock samples between Stellat'en First Nations and Fraser Lake.
The release explains, "Many rural and remote First Nations communities have unequal access to health care due to factors such as transportation constraints and challenges with recruiting and retaining health care providers. The COVID-19 pandemic exacerbated many of these accessibility issues, especially with regards to transportation and testing of patient samples."
Dr. John Pawlovich, Rural Doctors' UBC Chair in Rural Health, said, "Technology can be a game-changer and transform access and delivery for citizens who live in these communities. The Drone Transport Initiative is our opportunity to start that journey."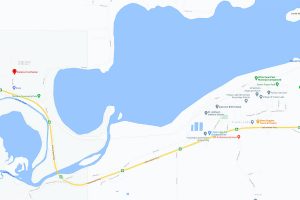 Trial Area
"Through the collaboration," continues the release, "LifeLabs contributes to the development of standard operating procedures and ensuring an end-to-end solution by participating in data evaluations, sample logistics, and training."
And continues, "What's more, this will support important community engagement efforts with Stellat'en First Nation, which will assist in identifying lessons learned and factors supportive of cultural safety and humility in our planning, implementation, and engagement practices."
The DTI initiative's drone technology and service are provided by Drone Delivery Canada (DDC) and funding is provided through a grant from the TD Ready Challenge.
Footnote
LifeLabs is a Canadian leader in laboratory diagnostic information and health connectivity solutions with 6,000 employees and over 100 million annual laboratory tests.
For more information