By Chris Stonor
Drone podcasts are popping up everywhere, but the UAV Digest, a weekly audio podcast that brings coverage of all things unmanned craft and systems, is well worth a listen.
Making its debut in 2013, it was formed by David Vanderhoof and Max Flight from the popular and highly regarded Airplane Geeks podcast.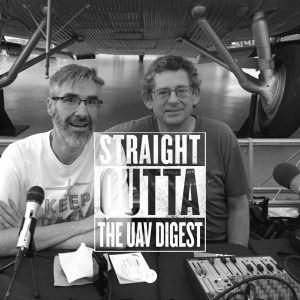 The latest podcast No. 386, covers such subjects as an AI-based mesh network drone delivery test, Navy destroyers swarmed by drones, an Amazon double-coupon deal, an attributable Bell cargo UAV, a first amendment drone case, the target drone on the beach and drones replacing firework displays.
To listen you can subscribe via iTunes, Google Podcasts, or through a favorite iOS or Android podcast app.
Listen to Latest Podcast