By Chris Stonor
How about this for a piece of research? It warms the "cockles of an urban air mobility (UAM) heart". Senior partners, Manfred Hader and Stephan Baur, of Roland Berger, a leading German consultancy firm, have carried out extensive research, then looked into a crystal ball, and are very excited by what they find.
The headline of their research immediately grabs you. "The future of urban transport is in the air. And ahead of the industry lies a golden future."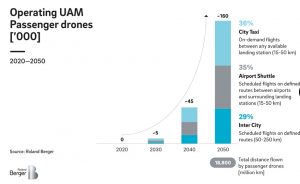 Bullet points of the initial resume include:
: USD90 billion will be earned in about three decades through Urban Air Mobility and the expansion of urban transport systems into the airspace – year on year.
: By 2050, 160,000 electrically powered air taxis will carry people to the airport or over traffic jams to their destinations.
: USD907 million flowed into the industry in first six months of 2020, despite the Covid-19 pandemic – 20xs more than in 2016.
: City Air Taxis with a range of 15 to 50 kilometres will cover inner-city needs – Intercity Air Jets, to fly distances of up to 250 kilometres between major cities.
: By 2050, Airport Shuttle and Inter City services together will take the lion's share, about 90% of revenues.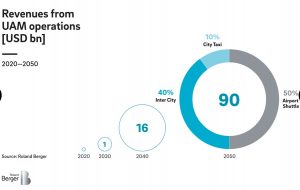 Download the 20 page document, enjoy the read, and await "the golden future" with bated breathe.
https://www.rolandberger.com/en/Publications/The-high-flying-industry-Urban-Air-Mobility-takes-off.html