By Chris Stonor
Now Joby Aviation has acquired the Uber aerial taxi division, Uber Elevate, changes are afoot and one person who has been instrumental in helping build Elevate to this point is Director of Strategy, Mark Moore. He had worked at NASA for over 32 years focusing on conceptual design studies of advanced aircraft before joining Uber four years ago. Unfortunately, he is not moving on to Joby.
Below is his farewell letter, published last Thursday onLinkedin, which to date has attracted 76 praising comments from many leaders of the UAM market as well as an additional 492 likes. Obviously, Moore is a popular and well-respected man.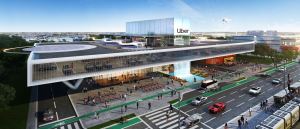 UAM Community,
Today's my last day at Uber, and since I won't be transitioning with the rest of the Elevate team to Joby Aviation I wanted to take a moment to thank you all for being part of such an amazing journey these past 4 years. Together we've created the foundation for a new aviation market, based on a vision to have aviation providing a benefit to people's daily life. Orville Wright dreamed of achieving such an impact, and in 4 short years each of you have contributed to making this very real, and very much closer than others think.
I am truly grateful that under the leadership of Jeff Holden, we pursued a collaborative ecosystem approach that invited all to participate. Elevate simply never would have happened without Jeff's willingness to embrace risk, have such a bold Star Trek-inspired perspective, while trusting the technologists to make things work. But Elevate would not have accomplished anything without the UAM community rallying, and our partners expending enormous resources to make it happen. Together we found a way for our personalities, our perspectives, our strengths to combine into a force that pushed through the enormous impediments for this new market to be born. And to those who were equal zealots as myself joining Uber to drive this forward, I'm in awe of the brilliant contributions that you've made.
Having worked with 10 courageous eVTOL developers and many additional great suppliers, real estate, city, and government partners, my hope is that each of your bold contributions are successful and rewarded. My objective remains to collaboratively build a transportation system with many winners, and a healthy competitive market that yields safer, greener, quieter, and faster solutions. My continuing efforts will work to ensure that the UAM industry can thrive with a clear path to operations that achieve economies of scale so that this dream belongs to everyone.  
Thanks for an incredible 4 years – let's all make the next 4 equally amazing!