By Chris Stonor
This weekend is a little special as human history is being made not on Planet Earth, but on Planet Mars, reports the NASA website. For Ingenuity, is set for its maiden flight on another heavenly body.
For sports fans, the Augusta Golf Masters and the UK's Grand National may be centre stage, but that highly sensitive craft has survived the original landing, coped with the extreme Mars cold at night and is now limbering up to make space history.
Already, Ingenuity has moved its blades and spun to 50 rpm in preparation (click on link below), to boldly go where no man has gone before. As NASA's tweet says, "Takeoff is slated for April 11, with confirmation expected overnight into April 12 for us Earthlings." 
Get ready!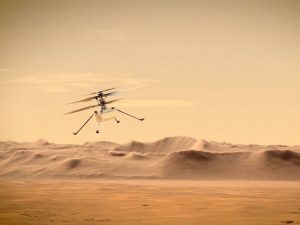 Click on link
https://twitter.com/NASAJPL/status/1380404668069650437
For more information