By Chris Stonor
The annual Irish National Start-Up Awards went virtual this year due to the pandemic, where dozens of small companies were presented with awards for their entrepreneurial flair and success. The competition is open to Irish companies and organisations across all sectors that have been operational for up to five years.There were 10 award categories featuring a gold, silver and bronze award, plus one Grand Prize winner.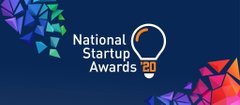 Needless to say, the drone delivery company Manna, founded by "serial entrepreneur", Bobby Healy, secured the top spot by winning the Grand Prize.
Previous UAMN articles about Manna:
https://www.urbanairmobilitynews.com/express-delivery/watch-video-manna-drone-delivery-trials-with-tesco-up-and-flying-in-ireland/
https://www.urbanairmobilitynews.com/express-delivery/were-absolutely-swamped-with-love-bobby-healy-manna-aero/
Manna is flying on an airwave of success, at present, recently securing a ground-breaking trial with supermarket giant Tesco in October. Its drones, each the size of a Labrador dog, have been delivering smaller Tesco products to customers living in the Oranmore area, County Galway. These deliveries have proven to be very popular and successful.
The Grand Prize was one of three accolades presented to Manna. The company also took home the gold prize in the Emerge Tech Start-up category and the silver in the Covid Pivot. After the awards were announced, the company tweeted, "We're blushing with pride right now."
The full list of winners in order of gold, silver and bronze are:-
Start-Up of the Year 2020
Manna
Early Stage Start-Up
Micron Agritech, 2GoCup, Peer Educational Technologies
Emerge Tech Start-Up
Manna, VorTech Water Solutions, Andrson
Fintech
Flexiwage, Circit, Change Donations
Food and Drink
The Naked Collective, Fiid, Plantruption
Social or Sustainable
VRAI, Huggnote, Positive Carbon
Product and Manufacturing
Anewmum, Safecility, Fixie
E-commerce and Retail
Nua Fertility, Beauty Buddy, The Pod Collection
Tech
Bowsy, Techfynder, Squid 
Medtech
Galenband, Think Biosolution, Feeltect
Covid Pivot or Response
Zendra Health, Manna, Streat-School
(News Source: https://www.siliconrepublic.com)