By Chris Stonor
Aerospace and defence company, Leonardo, begins its next drone technology innovation contest during the spring with teams from six Italian universities, reports aerospacetestinginternational.com.
The contest starts with a symposium focused on the development of artificial intelligence (AI) technologies for unmanned drones, where the Final, is to be held at Leonardo's Aircraft headquarters in Turin, Italy. This will consist of a race between the teams during which unmanned drones cooperate with sensors on the ground to interact with their environment and perform a mission. Each team's performance will be scored and judged.
The contest aims to encourage the development of technologies such as "teaming/swarming, objective based task allocation, drone interaction with external agents, visual inertial odometry, autonomous trajectory planning, identification and tracking, computer vision and autonomous decision making." It also hopes  to encourage links between industrial development and academic research and create an ecosystem of large companies, universities, small and medium enterprises, spin-offs and start-ups for the use of AI in unmanned drones.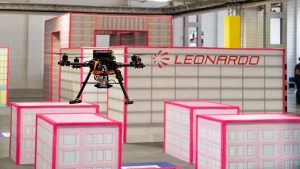 During the competition challenges involve drones collecting by image capture, information about the best landing location in a race against time. The craft will have to autonomously move between buildings and areas with reduced visibility to complete its mission.
Cooperation with sensors around the course is required to identify all objects in the shortest possible time and develop collaboration skills between the drone and other platforms, therefore preparing the ground for a 2022 contest, to introduce a primary challenge of collaborative flight.
Six universities are participating in the contest: Politecnico di Milano, Alma Mater Studiorum – University of Bologna, Politecnico di Torino, Sant'Anna School of Advanced Studies, "Tor Vergata" University of Rome and University of Naples "Federico II".
Politecnico di Milano and the University of Bologna won the first drone competition last September.
(News Source: https://www.aerospacetestinginternational.com)