By Chris Stonor
[Wednesday, March 3rd, 2021 at 11.00-12.00 GMT/12.00-13.00 CET]
For Europe's local authorities, the onset of drone and urban air mobility (UAM) services offers a wide range of both opportunities and risks. While drones and air taxis have the potential to reduce congestion and environmental impact while increasing revenue streams to local authorities they will also bring new liabilities and responsibilities.
'European Local Authorities and the UAM challenge: Responsibilities, Risks & Opportunities' is the first in a series of FREE Webinars, organised by CIVATAglobal, the worldwide trade association of the UAM industry, to examine these issues in detail.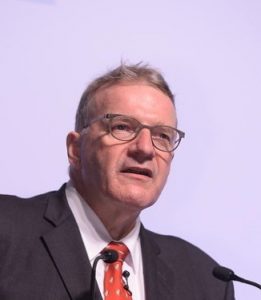 Andrew Charlton
The Webinar brings together legal, local authority and industry experts to discuss how cities, towns and other local government bodies are planning to introduce these services, the allocation of responsibilities for safe operations between national aviation regulators and local authorities and where the industry is heading.
Andrew Charlton, CIVATAglobal's Director General, comments, "Now is the time to start bridging the gap in our understanding of the roles and responsibilities of the aircraft operator, the national safety regulator and the local authority."
He continues, "This series of webinars is an important step in this process. We want to ensure that all stakeholders can access expert views while ensuring their concerns and questions are fully addressed."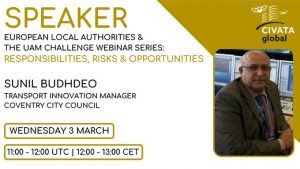 Topics
 Who is Responsible for Community Airspace?
(Speakers: Emma Warner-Reed, Davitt Jones Bould)
Managing the Future Urban Airspace
(Speaker: Sunil Budhdeo, Transport Innovation Manager, Coventry City Council)
Harnessing UAM for the Future
(Speaker: Vassilis Agouridas, Lead EU Smart Cities & Communities Initiative)
[Moderator: Andrew Charlton, Director General, CIVATAglobal]
How to Join the FREE Webinar
https://zoom.us/webinar/register/WN_qJPwvpYOR-OBwlnHtFIpXg
The Agenda
https://custom.cvent.com/6A39FE9AEAAF4637BF3A865A8131485A/files/511a867191e34acab4da85de4ad4852c.pdf