By Chris Stonor
A delightful and heart-warming story is rapidly spreading across the world's media, showing once again, the "drones for good" aspect of UAVs.
The story has all the ingredients of a box-office hit. The plot: Dog owner loses his golden retriever pup called Meadow close to a local forest. He goes on to social media and tells people about his plight. A search is instigated, but after 10 days still the young dog is lost. Then a hero from Cairo, New York, steps forward. A drone operator who realises that deploying his craft could help find the missing Meadow from the air. After several flights he spots the dog amidst the forest and returns it home to the owners.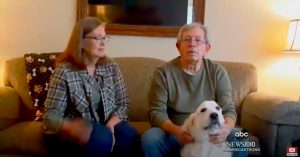 Very happy and tearful owners
This is a must watch video. It may even bring a happy tear to your eye. An uplifting Thanksgiving true story. Film report from abcnews.com.
Visual presentation
https://www.youtube.com/watch?v=nai3gadO818
 (News Source: https://www.wbal.com)