By Chris Stonor
 Paradise has arrived for the world's techies and environmentalists as a giant exhibition of start-up companies as well as potential investors goes ahead in Paris, France between June 16thand 19th. And even more exciting: This is not just a virtual conference, but also "physical and in the flesh" where organisers, VivaTech, says, "The health and safety of our partners and visitors is of the highest priority this year, and we are closely monitoring the local situation to make sure the event complies with the latest health guidelines." Promising, "In-person meetings and chance encounters."
Is this too good to be true?
The event began five years ago and is viewed as Europe's biggest startup and tech event. The website states, "High-level decision makers and opinion leaders (will) convene in Paris and connect online to discuss trends, forecast the future, and maximise business opportunities."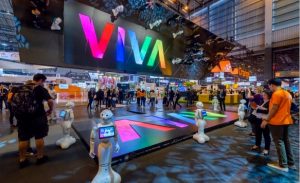 So, it appears to be a combination of virtual and actual physical interaction or as the organisers describe "Paris and online." They also reckon the event could touch 231 million people, 2,500 journalists and 125 countries.
Speakers involved are some of the leading lights of the technology world. From Mark Zuckerberg and Tim Cook to Eric Yuhan, Will Shu, Thierry Breton and even a former UK Deputy Prime Minister, now with Facebook, Nick Clegg.
While every type of green technology business is attending, the event is also smattered with eVTOL and drone start-ups. These include Zipline, Airspeeder, Ascendance Flight Technologies, Azur Drones, Flying Whales and, of course, the new kid on the block leader, EHang.
For more information