By Chris Stonor
The Guardian newspaper is the latest mainstream media outlet to focus on drones and their humanitarian usage. Entitled "Flying to the rescue" Scottish mountain teams are turning to drones", the paper's Scottish editor, Severin Carrell, writes an excellent piece on how drones are saving lives on the country's winter mountain-scapes.
The feature opens, "Scotland's mountain rescue teams have begun using sophisticated drones to search for injured and missing climbers lost in often dangerous and isolated terrain across the Highlands.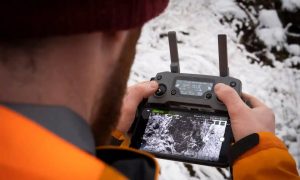 "The drones, weighing just under a kilo, can be fitted with torches, heat-detecting cameras, loudspeakers and even radio handsets, enabling rescuers to search inaccessible gullies and remote areas more quickly and safely than before."
Well worth a read.
Read Feature:
https://www.theguardian.com/uk-news/2022/jan/08/flying-to-the-rescue-scottish-mountain-teams-are-turning-to-drones
(News Source: www.theguardian.com)
 (Photos: Murdo MacLeod/The Guardian)