By Chris Stonor
Co-Founder and now former Aerospace Technology Institute (ATI) Strategy Officer, James McMicking, is interviewed about his successful time working at the Institute. He has recently taken up a new position at ZeroAvia as the company's Vice-President.

James McMicking
UK-based ZeroAvia is replacing conventional aircraft engines with hydrogen-electric powertrains for both short and long-distance flights. The company believes this "is the only way to scale sustainable aviation for commercial use with up to 30 times higher specific energy and lower cycling costs than lithium-ion batteries, and numerous advantages over all other decarbonisation solutions." The company adds, "Hydrogen-electric powertrains are the only viable, scalable solution for zero-emission aviation."
One interview question stands out.
As you move into your new role at ZeroAvia, how do you rate the prospects for zero-emission flight?
JM: It is a question of when not if. Looking back at human progress, we are only now beginning to understand the impact of our activities on the planet. But it will be a defining theme of future progress, probably forever. Technology will also keep advancing – this is often underestimated, but there are many examples in the world of transformative technologies being developed, and aerospace will be no different. I am therefore very optimistic about what we can achieve and I anticipate zero-emission flight across the whole fleet eventually. The net-zero solutions in view at the moment will not be the endpoint. ZeroAvia sees the commercial opportunities of zero-emission flight starting around the end of 2024. And the UK can play a huge role in this. The supply chain has not yet been established and the UK can easily take a lead in important high-end technologies. But it will need to move fast – we cannot afford the long lead times that some previous initiatives have had and other formidable countries have woken up to these opportunities.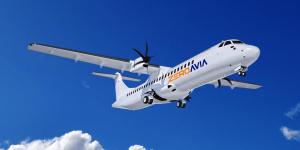 Read interview:
https://www.ati.org.uk/news/interview-james-mcmicking/
For more information