By Chris Stonor
Described as "Asia's largest airshow", this event is back on course after the easing of the Covid pandemic. Pre-Covid in 2020, close to 30,000 trade attended from 110 countries; there were 930 participating companies from 45 countries; 117 delegations from 36 countries and regions; and 871 exhibitor-delegation meetings held.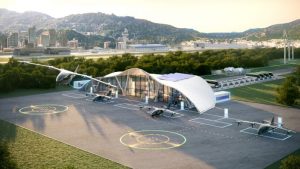 Rolls-Royce/Luxaviation Group in Attendance
Held at the Changi Exhibition Centre in Singapore, this four-day trade event begins on Thursday and continues until Sunday. There will be UAM companies participating including German company, Volocopter, and Rolls-Royce/Luxaviation Group, who recently signed a partnership deal to develop and deploy Advanced Air Mobility solutions. Rolls-Royce are to provide electrification solutions, maintenance support services and digital solutions for Luxaviation's planned network of vertiports around the world.
Attendance may be less this year due to stringent Covid testing rules.
Visual presentation
https://www.youtube.com/watch?v=citilpTFceU&list=PLDnUOO0ZaRn37FfhzvUp7-45ZBEpF4PLS&t=4s
For more information