By Chris Stonor
The week began with a visual bang. A tale of Chinese UAV manufacturer, EHang, and new partner, German architect company Giancarlo Zeman, with a collaboration to construct vertiports for passenger air taxis. The story is a delicious mix of futurism, eco-sustainability and Roger Dean'esque illustrations.
The vertiport-look intensifies the thwack. Inspired by the native African tree Baobab, it comes with a waiting room, café, a 200 sq metre panoramic restaurant and connecting lift. An all-round exotic narrative leading to a "tour de force" of Urban Air Mobility News (UAMN) twitter hits and web page views. One reader tweeted, "Where's the smoking room, then?" Another replied, "Next to the Mindfulness room." Crassly, EHang's own press release arrived four days after the news broke from its German partner.
Twittersphere has a habit of recycling drone and eVTOL videos, so it was no surprise to see the return of this excellent footage (click below) depicting a "real-life Iron Man" flying across Dubai wearing a jetsuit. https://www.youtube.com/watch?v=_5XfWayA0i8
From flying people to flying cars and this enigmatic and popular subject is back in the news again after website Raw Story  takes a look at the movers and shakers. In fact, this year is the 55th Anniversary of the most famous flying car of all time – Chitty Chitty Bang Bang – from the film based on an Ian Fleming short story written for his young son while the James Bond author recovered from a heart attack. "Not a lot of people know that!" Michael Caine might say. The 007 theme carried on when Albert Broccoli decided to produce the film after commissioning it in 1966.
Ken Adam designed the flying car and six Chitty-Chitty Bang-Bang cars were created, yet only one was fully functional and road worthy. Kiwi film director, Sir Peter Jackson, most famous for his Lord of the Rings and Hobbit trilogies, bought the car in 2011 for the princely sum of USD805,000. He still owns it today. Enjoy a soothing snifter of nostalgia: https://www.youtube.com/watch?v=Wuer3mLqIxc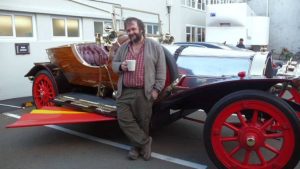 Hobbit King
Aussie drone medical delivery company, Swoop Aero, scooped a humanitarian gong, mailbox producer, Valqari, has formed "yet another" business partnership and Singapore leads the way for UTM by creating a specialist "air traffic control tower system." Meanwhile, Bobby Healy from Manna Aero, told thespoon.tech, its craft are now carrying out up to 100 drone delivery flights a day around Oranmore, County Galway.
South Korea's Incheon Airport cracks down on rogue drone operators with hefty fines of up to USD1,765, Pakistani PM, Imran Khan, has approved the establishment of a Civil Drone Authority https://www.youtube.com/watch?v=Z_rBo-M9MgY… Hold on, wasn't he once a famous cricketer? And Sabrewing Aircraft with flamboyant CEO, Ed De Reyes at the helm, is close to demonstrating "the first flight of its Rhaegal unmanned heavy-lift, long-range half-scale prototype aircraft."
Wednesday unveiled a fun but, perhaps, naive story about a Glaswegian curry house aiming to deliver its takeaways by drone. "Great idea shame about the regulations", The Monks pop group might sing. Perhaps, the original record has been banned now due to its "misogynist lyrics?" Meanwhile, Altitude Angel and its gang of four are starting trials after Easter for their medical drone delivery service leading to the much vaunted "drone corridor over Middle England."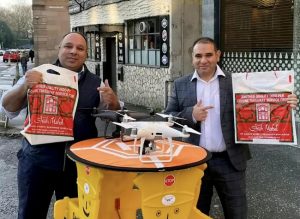 The incubator company, BrigkAIR (odd name?) is calling out for start-ups to join its accelerator program under the headline, "Be a challenger – be a start-up star!" While the opinionated Brandon Robinson, CEO of Horizon Aircraft, is once more wagging his finger at the eVTOL industry, this time warning them "to check your batteries". Luv his hutzpah!
It takes a lot to shock people in our dumbed down world, but this video taken by a door camcorder camera of a small plane crashing into an SUV on a busy road, then bursting into flames, is right up there. 3 dead and one injured. EEK! No surprise this comes with a "viewer warning". It's even disturbed Twitter this week. Do you dare? https://twitter.com/BillyCorben/status/1371572526615252994
There is always the weekly "silly" drone video to proffer a titter: https://www.youtube.com/watch?v=98C_ZWIWI1I&t=8s and a week doesn't go by without mischievous whispers, this time Volkswagon and rumours the company are seeking a Chinese partner to construct a flying car. The piece comes with a great video.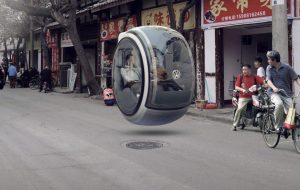 Another feature attracting a heap of UAMN Twitter hits and page views this week concerns Ireland and a revelatory promise from an "Irish drone expert." The skies of Dublin city will be festooned by eVTOLs "in just a few years," he predicts. The original headline did emanate from the Irish Sun newspaper, so probably "towards the end of the decade" is more realistic.
Meanwhile, Beta Technologies made a breakthrough with its all-electric Alia-250 eVTOL by flying at 8,000ft between two U.S independent airports and Israel is in the news again with leading drone company, Flytrex, attracting an additional USD8 million investment, leading to founder and CEO, Yariv Bash, remarking on the company's future, "It's going to be both crazy and amazing!"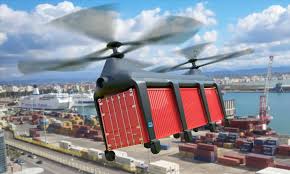 Antwerp Port is back in the news as a leading light for drone deployment. Unifly has been appointed as technology partner to develop the Port's Unmanned Traffic Management (UTM) platform, Canadian companies Katlo and Electric Air & Marine have signed a 30 year partnership deal (a similar lifespan of a lion), Hexa has lift-off with a "first-of-its-kind" live public safety demonstration on June 3rd in Ohio and don't forget to watch the informative video "7 Crazy eVTOLS above the periscope".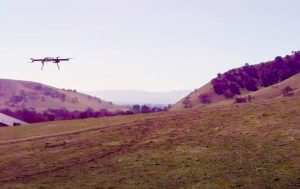 Record Breaker
Elsewhere, the Skyfront Perimeter 8 gasoline-electric hybrid drone flew 205 miles, setting the record for the longest drone multi-rotor flight ever recorded. It took the craft 13 hours, yes 13 hours, to achieve. https://www.youtube.com/watch?v=KXFoBUR_jqY. It took off at sunrise and didn't land until sunset. Now, that's special.
Take a Perusal
https://www.urbanairmobilitynews.com
___________________________________________________________________________________
Psst… CIVATAglobal FREE Webinar on March 24th. It's gonna be FAB! https://zoom.us/webinar/register/WN_n2TkDFsjS1Ko2cQrKRgXcQ
___________________________________________________________________________________