By Chris Stonor
Perhaps, the most famous football manager in the world, Jose Mourinho, is deploying drones at his new club, Roma, to improve training methods for his players.
Mourinho who was sacked from the UK Premiership club, Tottenham Hotspur, this year, after a disappointing stint as manager, was viewed as someone from "a bygone age", but this recent revelation that he's employing drones to video the players training and then play the film back on a giant screen at the Trigoria training ground afterwards, has changed all that.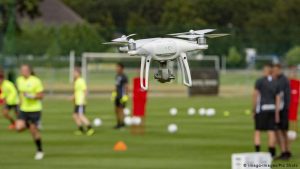 The 58-year-old has got to work with changing things in the Italian capital straight away and drones are helping him to achieve this. The craft allow him and his coaching staff, to spot the shape of his team in training and pick up on aspects they may usually miss.
By spotting things via the drone video, the Roma boss can then pinpoint mistakes or errors in shape and quickly rectify them, after showing the players the footage on the giant screen. Exactly how much of their training sessions the players want to spend watching their errors is questionable, but it should be of help.
The concept is not new. Bayern Munich boss, Julian Nagelsmann had a giant screen installed at Hoffenheim's training ground when he was their manager. The German used the screen in a similar way to Mourinho, but would also use it to show his players clips from the upcoming opponent's former games and go through analysis with them.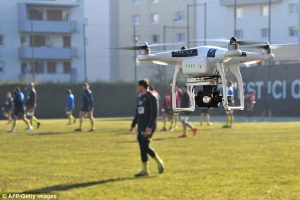 (News Source: https://www.sportbible.com)