By Chris Stonor
A giant, white sculpture of a drone, 25' high with a wingspan of 48', has appeared over Manhattan's High Line Park at 30th Street, frightening New Yorkers, which is the creators' intention.
59 year-old Sam Durant, the artist behind the fibreglass "Untitled (drone)," is known for his controversial art. He said, "This work is designed to remind the public that drones and surveillance are a tragic and pervasive presence in the daily lives of many living outside and within the United States."
The white sculpture of the predator drone stands out against the blue summer skies, appearing to hover over 10th Avenue, and which rotates on its pole when pushed by the wind.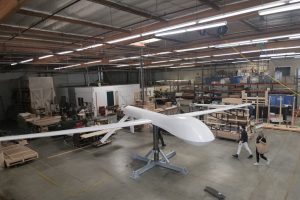 During Construction
Cecilia Alemani, Chief Curator of High Line Art, that sponsored Durant's work, commented, "Our aim is to bring to the public not just beautiful artworks, but also thought provoking ones that generate conversations." 
Certainly, for Californian resident, Ariella Figueroa, the sculpture has done just that. She said, "The drone makes me think about the future. It's similar technology we were using in Iraq and Afghanistan ten, twelve years ago that is now handheld and anyone can buy." Adding, "It's a little intimidating, a little scary, especially here in New York City."
Durant who originally conceived "Untitled (drone)" in 2016, has dedicated his career to research-intensive projects about war, monuments, mass incarceration and other difficult legacies of U.S. history.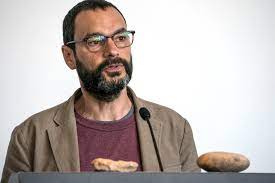 Sam Durant
His new commission for the High Line is the artist's first large-scale work in the public sphere since the 2017 controversy in Minneapolis over his sculpture "Scaffold," which enveloped Durant in a storm of cultural debate over whether white artists should depict painful racial narratives that weren't necessarily their own stories to tell.
His pale aerodynamic drone moves around like a weather vane and varies in visibility, something the artist plays with intentionally. In certain weather conditions and from different vantage points, it may almost become invisible against the sky.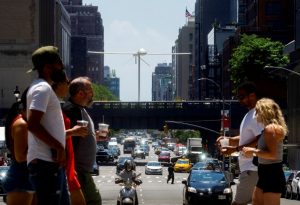 Alemani concluded, "For Sam, the goal is to make visible in America the drone warfare that this country carries out against countries very far away."
(News Source: https://www.reuters.com)