By Chris Stonor
News emerged this week at a leisurely amble rather than the sprint of recent months. Monday included a Zoom interview with Sonet Kock as part of the Drones.R.Africa "trailblazing women" series, Jetoptera and its innovative propulsion system was awarded a contract by the USAF,  Airbus UAM Heads offered crystal ball predictions of the future, while Talyn Air showed off CGI footage of a proposed and innovative air taxi with a detachable take-off system leading to two separate flying craft, reminding one of Star Trek https://www.youtube.com/watch?v=ekbQcDT0S_g… which neatly warps to a BIG celebration. 
It was William Shatner/Captain Kirk's 90th birthday this week. A tweet proclaims, "He has completed his 90th trip around the sun or 52,600,000,000 miles, a distance that Warp Factor 1 gets you in about three days." The famous phrase 'To boldly go where no man has gone before!' could so easily be employed by the drone and eVTOL industry. "Risk, risk, risk and more risk."
Adam Fry, CEO of Skydio, was interviewed on CNN by an elegant English lady with an aristocratic voice called Julia Chatterley, although Fry is not a gamekeeper which rather spoils the narrative. https://twitter.com/jchatterleyCNN/status/1374086531414171658 .
The New Scientist Magazine was all agog over a recent photo depicting thousands of starlings murmuring. The air industry then dived on the picture claiming it is shaped like an eVTOL aircraft. Umm, could this not simply be CGI?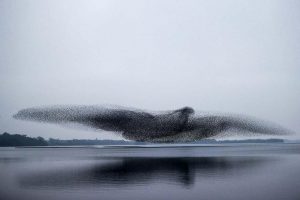 Manna Aero is rarely NOT in the news and Samsung Electronics is the latest partner for the Oranmore trials, the UK Home Office has joined forces with the police and CAA to curb "growing drone crime", Madrid is to be the first European city to launch a drone delivery service and EHang are back in the news, again, recovering from recent "rampant shorting" of its share price with news that China's Guangxi Hezhou Municipal Government is investing USD307 million into the company to assist the construction of an "intelligent aviation demonstration city."
News first broke on Chinese social media and within minutes, the "Twitter bloodhounds" were employing Google translation to break the story in the West, forcing EHang to confirm it. Still no official press release… yet. Keep up the excellent sleuthing work, my feathered friends.
Jackass TV imitators decided to drop heavy objects from a 45' high tower in an attempt to smash two drones hovering below. Eventually, an anvil did the job! https://www.youtube.com/watch?v=1ohMzdQhKzo, and a bizarre shift of media perspective occurred this week… UFOs are now being described as "drones" or "UAVs", and while staying with space, NASA broke the news that its Mars drone, Ingenuity, will carry out a first flight trial no earlier than April 8th. The Perseverance Rover had cocooned the craft in a guitar-shaped case for its protection, but judging from the photo and GIF below "INGENUITY HAS LEFT THE CASKET!" https://twitter.com/NASAJPL/status/1374423275674112016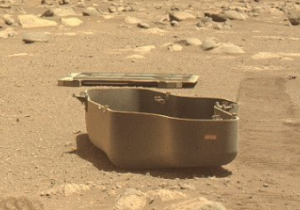 Litterbug!
There was an "odd couple" partnership between the Latvian national airline airBaltic and mobile telecommunications operator LMT,  more news on vertiports, Volocopter has published a second 'White Paper' entitled, "How to Bring Electric Air Taxis to Cities at Scale" (far more important than calling it "a research inquiry") and staying with those verti-whatsits, the FAA, NASA and UAS industry leaders are holding  meetings with NUAIR to discuss this technology alongside the prospect of flying autonomous aircraft over cities.
A warm-heartening "drones for good" story appeared on Thursday. Hail the Revector Detector Drone (RDD) that comes with an attached mobile phone base station, which can locate survivors of natural disasters or man-made accidents, especially in remote or hard-to-reach areas. There is one snag. The lost or injured must be carrying a mobile phone. 
Hoversurf was again demonstrating its flying machine with its "interestingly placed rotors" https://twitter.com/GentesSinSuerte/status/1374708406125203456 which transports us back to the late 19th century and this magical depiction of how French science fiction writer, Albert Robida, envisaged the flying vehicle revolution.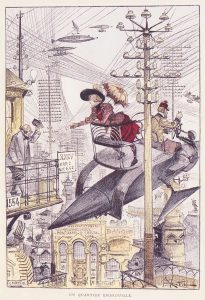 (Pic: British Museum)
Skylift is the latest UK medical drone delivery kid on the block, evolving from wind turbine services to soon transporting vital cancer drugs to the Isle of the Wight, and a DACUS report states Europe will require one vertiport/drone landing site per 3,000 urban residents by 2036. That means London, with a population of 9.3 million, need 3,100. Where are they going to put them all?
Liverpool has a new drone project niftily called Phoenix 1 to bring "the fourth industrial revolution" to its City, French cities Toulouse and Bordeaux will see extensive UAM flight tests next year, and litterbugs are to be trashed this summer by three UK south coast councils as drone technologies and AI are to be deployed to assist tourists to "responsibly throw away their rubbish". Ironically, the project is financially supported by McDonald's, perhaps, one of the greatest sources of litter, not withstanding the chaos the corporation create to the Amazon rainforest.
Finally, sing along to the "greatest drone song" ever recorded. "1, 2, 3…"
Have a great weekend.
Take a Perusal