By Chris Stonor
Once more the week began steadily with news-flow still gaining breath after a dynamic early new year. Bobby Healy of Manna Aero seeks another Irish urban partner for an exciting new "delivery relationship", China is trialling drone flights between city hospitals to transport vital blood samples, reducing the time by road from half an hour to just 5 minutes by drone. A staggering reduction that shows just how congested Chinese city centres can be.
There is an interview with Alphabet Wing's Chief Technology Officer, Adam Woodworth. Adam, described as "one of the most influential aviation experts in the drone industry today," is a shy individual, so this is a rare event. His visual look is a reminder of a 1970s rock guitarist.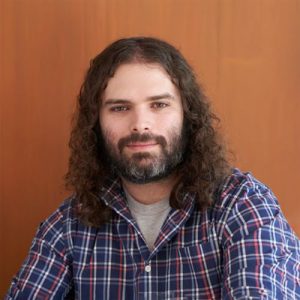 The Daily Telegraph gained a scoop, breaking a story that Britain's MOD has patented a device to first entangle (looks like "a spiderman's web") and then bring down rogues drones, to be deployed around the country's "sensitive areas", and prevent another embarrassing incident like the one at Gatwick in December 2018. And the BIG news of Monday was that Hong Kong start-up, Seaplane, will soon launch "one of the first passenger drone services in the world," where the price of a flight could be as low as USD25.
Twittersphere embraced amazing drone footage of the active Icelandic volcano, Mount Fagradalsfjall, where the eruption has produced a river of lava that can be seen from the capital city of Reykjavik, 20 miles away. The operator sacrificed his own craft to gain this stunning cinematography. It melted from the heat. https://twistedsifter.com/videos/guys-drone-melts-getting-overhead-volcano-shot/.
A class action lawsuit is about to be filed on behalf of EHang investors by lawyers, Thornton, after a "damning report" from U.S analyst firm, Wolfpack, back in February, https://www.tenlaw.com/cases/EHang/ and crash simulations showing how damaged drones falling from the sky with parachutes attached to lessen the descent speed, were highly affective (the parachute that is) at reducing any potential damage to passing cars.
Space exploration is the talk of the town and NASA has created a new video game, reminding us of the late 1970s arcade classic, Space Invaders, concerning the Mars drone, Ingenuity. There is a kicker. You must create the computer coding yourself… first! https://www.youtube.com/watch?v=jmhCIxnWdEQ&t=3s
Staying with space, Richard Branson and his Virgin Galactic https://virg.in/SpaceShipIII premiered a new video on Tuesday welcoming those who dream of taking an off-planet flight to the VSS Imagine. https://www.virgingalactic.com/articles/virgin-galactic-unveils-vss-imagine-the-first-spaceship-iii-in-its-growing-fleet/. The ship is entirely covered by a reflective mirror-like material, which provides thermal protection. "5,4,3,2,1… Thunderbirds are GO!"
Meanwhile, Wisk has its sights on an AAV passenger taxi service in New Zealand, Textron has entered the electric aviation market with the formation of a new division headed by former company VP of sales and marketing, Rob Scholl and Malta hopes to join the big boys after creating the Malta Drone Centre. There is an interview with the two founders.   
Drone media leader, suasnews.com celebrates its 13th year this week with a website nip and tuck. Congratulations to Gary Mortimer, founder and editor of the online publication. Airspeeder stated that its piloted Mk4 Speeder can go from 0-100kph in just 2.3 seconds (WOW!) and South Africa is soon to deploy drones to spy on motorists and catch 'em for "speeding and reckless driving".  
Contemporary art is air art say some soothsayers and this photo of an upside down Westland Wessex Mk60 (WS-58) G-ATBZ hit the spot on Twitter. One in every town centre should liven things up. A Piper Cub here, a Cessna there.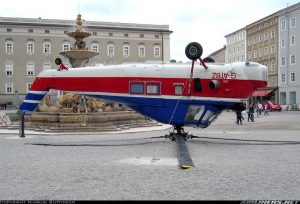 This leads to drone art and a blast from the past. U.S rock band, 'OK Go', released this video in 2014 to promote a new single I Won't Let You Down. The drone-inspired choreography is quite superb. https://www.youtube.com/watch?v=u1ZB_rGFyeU&t=83s. The effort that went in to making the video is extraordinary.
Read this: https://en.wikipedia.org/wiki/I_Won%27t_Let_You_Down_(OK_Go_song). No surprise, the video went viral attracting 6 million worldwide YouTube views in just two days and won best choreography at the '2015 MTV Video Music Awards'. The group remain together today and promotes its Twitter with the strap-line, "This Will Be Our Year!"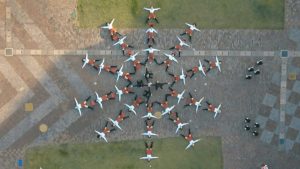 Mid-week and the news flow gathered apace.
Zipline has joined forces with Toyota Tsusho Corporation to bring medical drone deliveries to Japan, Malaysia's Pen Aviation and France's Cavok are collaborating on a new heavy cargo drone, Airo and Walle Mobility are partnering "to bring urban air taxi services to Italy" and the BIG news of the week, is confirmation that Munich-based passenger air taxi company, Lilium, is floating on Nasdaq with an enterprising valuation of USD3.3 billion. The money beguiled is to go towards constructing a new seven-seater jet alongside preparations needed for Lilium's commercial launch in 2024. The company also revealed this week that it's in talks to construct a network of vertiports in Europe.
Drone podcasts are two a penny, but UAV Digest is worth a listen, Airhub is a new start-up that's created a single gateway that links federal, local government, and drone operators in a simple digital infrastructure, UK's giant battery developer, VOLT, is the latest company to seek a stock market floatation via a SPAC and drone operations in Spanish airspace have "increased exponentially in recent years." I am sure that is the case for many countries around the world.
EHang are to report Q4 2020 earnings on April 16th. Rumours suggest the company are about to become profitable with 70 216 AAVs sold during Q4 and 120+ for the year. Financial guidance for 2021 has been revised upwards.
Finally, April 1st deserves a good April Fool's story. How about this one that deceived a few in 2019. The story claimed Amazon's latest patent was harnessing the power of telekinesis to remotely operate delivery drones.
Amazon's plans were to power its fleet with nothing but positive thinking from operators. "A specialist team at Amazon fulfillment centres with psychic powers are training to control the entire fleet of delivery drones," the article stated.  "Transporting packages across the country without any technical assistance."
Umm… really?
Happy Easter.
Take a Perusal