By Chris Stonor
German company, Skynamic, has created a stunning video from drone film footage to win a prestigious award in the Showreel Category, at the recent sixth, but virtual New York City Drone Film Festival (NYCDFF).
Skynamic, perhaps better known for its work in the TV and film industry including Game of Thrones, has acquired an assortment of permits to fly in numerous world countries, primarily employing their large drone cameras called Red and Alexi. The company also uses CineWhoops as well as an RC camera buggy.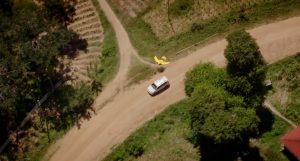 This has led to a series of dynamic and exciting drone film footage that can be viewed in the video below. Both the background music and sharp rapid editing helps to increase the visual excitement. Subjects vary from racing sports cars, motorbikes and drones in flight to military weaponry and police assaults.
Skynamic works for clients all over the world. Its Showreel 2020 features footage shot in numerous countries, including France, Spain, Iceland, Morocco, UK, USA, Vietnam and Mexico.
Watch video
https://player.vimeo.com/video/371385705
For more information