By Chris Stonor
Whether a techno-phobe or a techie, occasionally a new piece of kit takes your breath away. No doubt due to military drone 'snooping' advancements, the public now has an opportunity to purchase a craft so small that it fits into a mini-suitcase the size of a large matchbox and at a price of less than USD60. All you need is a mobile phone as the appendage and you're away.
Named the Waveair Pro (luggage edition), it is sold by Grey Technologies (a military cover, perhaps?) The opening blurb states, "Guys, this might be the coolest mini drone we have ever launched for you. If you are looking for a cool hitech drone with high definition recording – then this is just the perfect gadget for you. And the luggage box – oh boy !!! that is really really awesome and you're gonna love that!"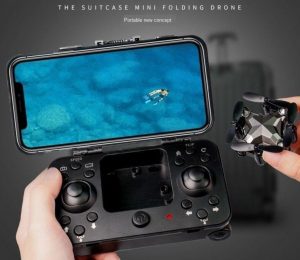 Features Include:-
INTEGRATED DESIGN – What makes this mini drone so special is its patented integrated design. The drone can be easily put in the remote control luggage box and the phone can also be mounted on the control which makes it very convenient while flying.
GREY TECH PATENT GEARBOX – The Waveair® Pro features our patented 4 channel 6 axis gyroscope which makes the flying highly smooth and fast in addition to 3x greater air stability than any other mini drone on the market.
FULL HD CAMERA – The 4 megapixel HD mini Camera on the front bumper of the drone allows you to take ultra clear aerial shots and videos (If you are into professional video recording , then this drone is highly recommended for you).
REAL TIME HD TRANSMISSION– Using real time Wi-Fi Signal transmission , the real time pictures and videos taken by the drone can be viewed through the mobile phone App (supports 3G/4G/5G Networks).
DRAWING TRAJECTORY – Draw the trajectory you want to fly on the phone app and the drone will automatically follow the path which is the coolest feature of this luggage drone
VR INTEGRATION – If you have VR Glasses, then you can enjoy high speed FPV first view flight experience which is really really cool.
GESTURE PHOTO/VIDEO – The smart AI Chip allows you to automatically record photos by doing certain gestures with your hand.
ONE TOUCH TAKEOFF/RETURN – One touch operation button makes it very convenient especially if you are a beginner in drone flying making it one of the best camera drones for beginners too.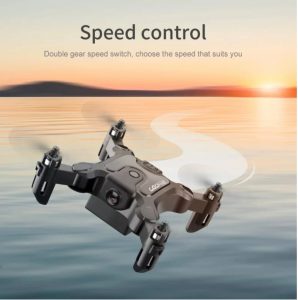 While its variety of purpose is apparent from looking for lost items including dropped keys on a street to finding out where the pet dog has gone to on a long country walk, obvious questions like 'what are the regulations of usage when outside the home?' Being so small and discreet it must be tempting to dismiss the standard rules for larger drones. And being so tiny does a whiff of wind or a rain flurry make it inoperable?
Watch Video:
https://twitter.com/TheFigen/status/1478772308244406274
For more information
https://thegreytechnologies.com/products/mini-drone-luggage-box