By Chris Stonor
You cannot begin a New Year (NY) following the rapidly expanding drone industry without first looking at the impact these unmanned craft had on the world NY celebrations. While fireworks have always dominated, drone light shows are now adding to the spectacle and in places like Hong Kong, London, Seoul and Edinburgh, drones took centre stage to embrace the heralding of 2021.
In London, the city's mayor, Sadiq Khan, spent UKP1.5 million of taxpayer's money on such a show. Over 300 craft were deployed to hover and fly over the O2 Arena and River Thames, displaying various depictions including a thank you to the NHS frontline heroes, an image of the heroic centenarian Captain Sir Tom Moore, who raised UKP33 million for charity by walking around his back garden, as well as displaying controversial Black Lives Matter (BLM) fist salutes.
Watch Video
https://www.youtube.com/watch?v=rQLeIuWavnQ
Not to be outdone by the English, Scotland arranged its own drone display above the Scottish Highlands and capital city, Edinburgh, for its NY Hogmanay.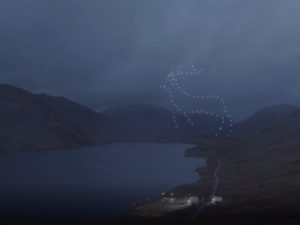 Watch Videos
https://www.edinburghshogmanay.com
https://www.bbc.co.uk/news/uk-scotland-edinburgh-east-fife-55485371
As usual, the most spectacular and largest drone light shows occurred in Asia, in particular, South Korea and the city of Seoul.
Watch video
https://www.youtube.com/watch?v=YIs8t3ro9Fw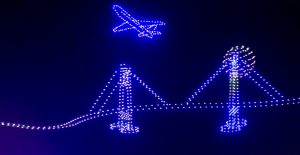 Not to be outdone either, Hong Kong deployed over 1,000 drones for their display creating a new Guinness Book of Records for the number of craft used at the same time in the region.
Hong Kong Video
https://www.youtube.com/watch?v=ixgEpXUG6pI
Yet, it was not all 'light and shows'. Elsewhere around the world from Europe to South America, drones were deployed during the New Year to monitor the public and make sure Covid-19 restrictions and the lockdown were enforced including no gatherings, no firework displays or parties.
In Australia, where Christmas and New Year are often celebrated on the country's numerous beaches, drones were used to monitor sunbathers and potential beach parties to make sure Covid restrictions including social distancing were being adhered to, reports abc.net.au.
For example, around Sydney the city's Northern Beaches Council commissioned surf lifesavers to fly surveillance drones to count people on the beach and make sure they were properly social-distancing. Birds-eye footage of 25 parks and beaches from Manly to Palm Beach were sent back in real-time to council headquarters to ensure the crowds were within Covid-safe capacity.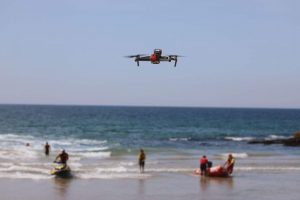 One patrol guard is 23 year-old University student, Yasmin Zaman, who flies a drone for such purpose. She said, "I send the drone up for about 20 minutes at a time and take footage of the beach. After the flight is done, I head off to the next beaches and do a look there and upload data to be checked by the council to count heads."
Donna Wishart from Surf Life Saving (SLS) said the new program is an efficient method to monitor beach numbers with two drone operators rostered on each day. SLS has introduced a Covid capacity feature to their Beachsafe app too. When a beach is at 70 percent capacity a warning alert is sent to users, with another notification sent when the beach is 90 percent full and access is restricted.
Let us hope the New Year celebrations for 2022 offers the world far more freedom.
(News Source: https://www.abc.net.au)