By Chris Stonor
"Good Morning Drone World" is a weekly Youtube series offering a viewer the latest news and updates in the drone industry. Presenter, Jamie Cording, is professional and well-spoken and the presentation is executed proficiently. This is a channel worth subscribing to.
In reality, the program is a promotional tool by company Coptrz who promotes itself as, "Straight-talking drone experts across inspection, surveying and public safety that will work with you to build a bespoke 360 degree drone solution." The company's twitter has 10.3k followers which shows standing in the field.
Naturally, Coptrz throw in occasional updates and exclusive deals about its own company, but hey… the channel is FREE.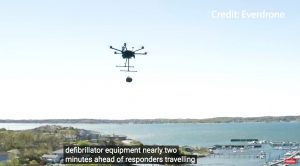 The video below is referred to as episode 3. News covered includes drones delivering defibrillators faster than ambulances and Avy Aero tackling forest fires in the Netherlands.
 Watch Video:
 https://www.youtube.com/watch?v=9rjFfiJjx0Q
 For more information
 https://www.youtube.com/channel/UCaSoWnfzOkLf-gVsqqkRZBQ