By Chris Stonor
A counter-drone system has been installed this month at the Belgrade, Nikola Tesla Airport (NTA), to maintain air traffic security, along with nine QPS 200 scanners, reports a press release.
The number of "rogue drone sightings" at airports around the world has increased exponentially in recent years with the UK Gatwick Airport incident two years ago being the best known.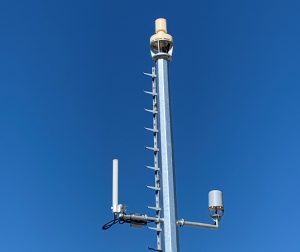 Ardronis System
Therefore, Keeping airports safe from unauthorised unmanned craft is now a major priority for the aviation industry where rogue drones have caused havoc with incoming flights and take-offs leading to mass cancellations.
In order to prevent any potential chaos, the NTA has purchased and put into operation a Rohde and Schwartz Ardronis counter drone system that can detect rogue drones even before take-off. For when the craft's remote control has been switched on, this classifies the device type and the Ardronis sensor captures the uplink, so it can track down the operator. Security personnel can then locate the person and initiate electronic countermeasures.
The uplink signal can also be disrupted, causing the operator to lose control of the craft. This will then switch to failsafe mode and the craft will attempt to land or return to the location it came from.
Zoran Skoko, Security Director of NTA, commented, "The Airport is now well equipped to combat unauthorised drone activity. We are confident that we are taking sufficient precautions and can prevent drones from disrupting our air traffic."
QPS 200 Scanner
Meanwhile, the airport scanners, also from Rohde and Schwartz, are "fully automated and deliver high-performance security screening using safe millimetre wave radio frequency technology to rapidly and accurately screen passengers for concealed threats." This technology is approved by the European Civil Aviation Conference (ECAC) and in use at some of the world's busiest airports.
In Serbia, drones are banned from flying within a five-kilometre radius around airports unless prior approval is obtained from the country's Civil Aviation Directorate.
 Visual presentation
https://www.youtube.com/watch?v=gNl23wsEEv0
For more information
https://www.rohde-schwarz.com/in/product/ardronis-d-productstartpage_63493-617805.html
https://www.rohde-schwarz.com/in/product/qps-productstartpage_63493-332676.html
(News Source: https://www.rohde-schwarz.com/uk/home_48230.html)