By Chris Stonor
South Korea's major international airport located in the western port city of Incheon is to take harsh legal action against drone operators flying their craft close by, reports ajudaily.com.
While there is already a "no-fly zone" for drones around the Airport, some operators have used hidden spots to avoid a crackdown. Over 80 examples of "illegal drone flights" were spotted near the airport from September 2020 to February 2021.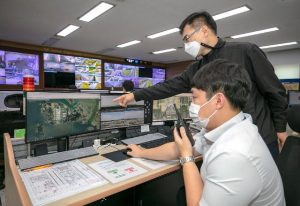 Operating drones without permission from air traffic authorities will be slapped with a fine "of up to USD1,765 alongside other penalties", the operator of Incheon International Airport said in a statement this week, warning of civil lawsuits and criminal charges against unauthorised drone flights in a radius of 9.3 kms around the area. Drones can cause similar damage to a bird strike, if a craft is sucked into the air intake of an aeroplane, leading to a potential disastrous accident.
Around 18 months ago, Incheon set up a special drone detection system after partnering with military and police authorities to capture or shoot down rogue drones.
Visual presentation
https://www.youtube.com/watch?v=VezovV2wdRY
For more information
https://www.airport.kr/ap/en/index.do
(News Source: http://www.ajudaily.com)