By Chris Stonor
South Korea's Science and Technology Ministry announced this week, the country is to spend around USD37.6 million on installing "Drone Cops" in places like airports and nuclear power plants to bust any rogue drones flying in such areas, reportsnknews.org. This may also have implications for defence against neighbouring North Korea.
These drone cops will collectively monitor areas where unmanned craft flights are banned and take down any rogue craft by first identifying the target's vulnerabilities and then jamming or hacking into its system. The drone cops can achieve this with help from land-based radars and scanners, and if that fails, they can crash into the targets or cast nets in order to capture them.
"The current project aims to develop technology that can respond to domestic or foreign drones," the Ministry stated. "In the future, we plan to improve the technology and respond to drones equipped with weapons."
Kim Youngjun
Last September, drones flying near South Korea's Incheon International Airport forced five airplanes to conduct an emergency landing at another nearby airport in Gimpo. In total, there have been 185 cases of similar aviation law violations between 2016 to July 2020, according to South Korea's Ministry of Land, Infrastructure and Transport data.
North Korea has also sent unmanned aircraft to South Korean territory, with the first known incident occurring in 2014. South Korean authorities even fired machine gun warning shots after spotting a drone crossing the border two years later, in 2016.
Kim Youngjun, a professor at the Korea National Defence University, commented, "Rogue drones can carry out what has traditionally been the role of paratroopers, such as targeting infrastructure facilities like nuclear power plants or electric power stations."
Dongyoun Cho, an assistant professor of military studies at Seokyeong University, added, "The problem with drones is that they are too small and hard to detect. There are cases where high-tech equipment can fail to detect [drones] with outdated technology."
According to Cho, South Korea is showing increasing interest in advancing its own drone technology, in part because of these concerns, but also because of supply chain issues during the Covid-19 pandemic. However, the country has not become a hub to high-tech drone technology, just yet.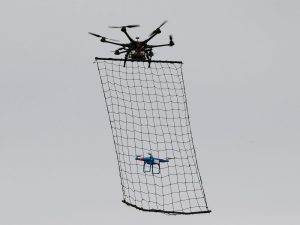 Drone Net
She said, "Since last year, the Ministry has been saying that it should create demand within the country and nurture the domestic drone industry. It's not a profitable one as yet, so, we haven't seen big companies jumping into the market."
Any drones adopted for official military use will have to meet a stringent set of specifications and standards, Cho said, but she still believes growth in South Korea's private drone industry will eventually trickle down into the country's armed forces.
(News Source: https://www.nknews.org)