By Chris Stonor
Only a week ago Urban Air Mobility News (UAMN) published a story about UK-based Blue Bear launching its Autonomous Intelligent Robotics Drones for Unmanned Integrated Delivery System (AIR DRUIDS), for delivering medical products like blood samples, swabs, blood and plasma between hospitals, GP surgeries, remote field stations, or emergency delivery to an accident location.
Previous UAMN article about Blue Bear:
https://www.urbanairmobilitynews.com/medical-pharmaceutical-transport/uk-blue-bear-announces-air-druids-medical-drone-delivery-program/
This week Blue Bear has been showing off its drone technology to the UK Ministry of Defence (MOD), in particular, the company's drone swarm expertise, presumably to impress the MOD in the hope of gaining military contracts.
Blue Bear flew a swarm of 20 drones of five different types in-front of army eyes, making it "the largest evaluation of a military-focused Unmanned Aerial Vehicles (UAVs) swarm in the UK to date, reports airforce-technology.com. This trial is the culmination of work carried out by the UK Defence Science and Technology Laboratory's (Dstl) "Many drones make light work" project.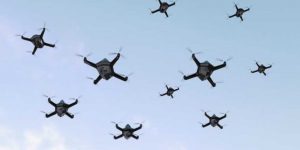 Funded under the Ministry of Defence's (MOD) Science and Technology Portfolio through the Defence and Security Accelerator (DASA), the evaluation saw 220 sorties flown over two weeks from RAF Spadeadam, Cumbria.
The Dstl project technical authority commented, "This is a significant step forward in our understanding of the capabilities of swarming drones and has been achieved through excellent collaboration across the MOD and with a number of small and medium enterprise partners."
Following two earlier phases, a UKP2.5 million contract was awarded to further develop the technology back in 2019. Funding was awarded to a team led by Blue Bear Systems Research that includes Plextek DTS, IQHQ, Airbus and Durham University.
The swarm saw five different fixed-wing drones carrying six different payloads fly missions under the control of just three operators using Blue Bear's Mobile Command & Control System (MCCS).
The five UAVs used in the test were Blue Bear's Ghost, Ghost Modular, Red Kite, Cobra and the hand-launched Flat Pack system.
Ian Williams-Wynn, MD of Blue Bear, said, "Demonstrating BVLOS operations of a 20-drone swarm shows how far we have come in the 18 months this project has been running." He continued, "I am so proud of the whole team who have put a phenomenal amount of effort in to deliver the UK's most complex autonomous air vehicle trial ever."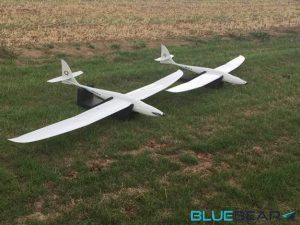 To assist the drone operator, a number of the UAVs were running Blue Bear's Artificial Intelligence platform (BBAI) which processed sensor data on the aircraft before transmitting relevant information to ground controllers.
The Dstl project technical authority added, "This 18-month collaboration has resulted in the demonstration of an operationally relevant capability and will inform and de-risk future choices and decisions about swarming drone capability."
During the evaluation, the drone swarm also utilised "Blue Bear's Airspace Deconfliction Layer (ADL) technology to assist in the automatic deconfliction of BVLOS and track third party aircraft operating in the same area as the swarm."
Visual presentation
https://www.youtube.com/watch?v=_TgdDsU83H8&feature=emb_logo
For more information
(News Source: https://www.airforce-technology.com)