By Chris Stonor
Prime Minister, Imran Khan, has approved the establishment of the Civil Drone Authority for his country to put in place an institutionalised mechanism to facilitate the development and regulation of the sector in Pakistan.
PM Imran Khan approved the Authority during a meeting in Islamabad last week. It will be given the task to regulate and control unmanned aircraft systems throughout Pakistan. The Authority will decide matters across the field from licensing, input, making, examination, and issuance of drone permits to manufacturing, operations, training, research, and development. Technical guidance to the industrial sector will also be offered to facilitate domestic manufacturing.
The Authority, headed by the Secretary of Aviation, will have the right to impose fines and penalties, including cancellation of license and registration, as well as the initiation of legal proceedings under prevailing civil and criminal laws.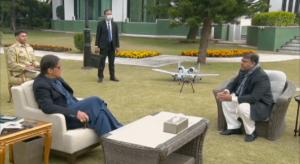 The authority is to be composed of senior-level representation from PAF, Civil Aviation, Defense Production, Interior, and Ministry of Science and Technology. In addition to these, representatives from the federating units including Azad Kashmir and Gilgit Baltistan will be included. Three professionals of the field are also to join.
PM Khan said, "Employing drone technology for commercial, research and development, agricultural and other peaceful purposes is the need of the hour." He continued, "The effective use of drone technology in various sectors will help in optimising resources and create a better service delivery."
If a life-long cricket supporter, it is still difficult to believe the once debonair ladies man and one of the leading all-rounder players of all-time is now the Prime Minister of Pakistan. Ah, those heady days as a youngster, watching him play at the Hove County ground for Sussex CCC remain fresh in the memory.
(News Source: https://www.bolnews.com)