By Chris Stonor
Airflow, an aerial logistics company building next-generation aircraft and services, announced last week the development of one of the first full-scale piloted technology demonstrators of an eSTOL aircraft, reports globalair.com.
Formed in 2019 by five former Airbus Vahana team members, the company intends to bring eSTOL capabilities to market. It is hoped that a completed aircraft will go into production during 2025.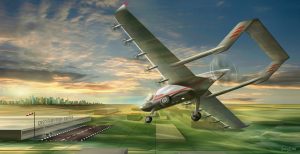 Last year, Airflow used a sub-scale model for test flights which assisted in developing the eSTOL flight control technology. During 2021, the aim is to transform a Cessna 210 into an eSTOL with distributed electric propulsion (DEP). DEP enables movement into and out of very short runways by providing more control at slower airspeeds. Airflow will validate and refine the design parameters used to build the production eSTOL aircraft.
Peter Kalogiannis, co-founder and CTO of Airflow, said, "Selecting the Cessna 210 saves us the effort to design and build the pieces that already work, such as the cockpit, fuselage, landing gear, etc." Adding,  "We'll remove the existing piston engine and wing and replace them with a new wing and eight electric motors and propellers and make it an eSTOL aircraft."
Last month, Airflow announced it was partnering with VerdeGo Aero to explore using its Aero hybrid-electric powertrain system in the eSTOL aircraft.
For more information
(News Source: https://www.globalair.com)