By Chris Stonor
Bell recently unveiled part of its vision for a future "High-Speed Vertical Take-Off and Landing (HSVTOL) aircraft", reports thedrive.com. The company's initial HSVTOL concepts aim to combine the "hover capability of a helicopter with the speed, range and survivability features of a fighter aircraft."
Three different, but similar, HSVTOL concepts were recently revealed one of which appears to be unmanned. Each design utilises a propulsion system where wingtip rotors are used for vertical lift, then fold away to reduce drag while turbofans provide thrust for the high-speed, forward flight. This is a similar concept seen in earlier Bell patents for its new-generation "convertiplane."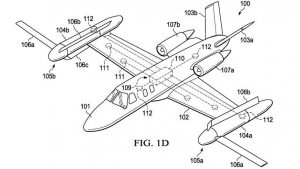 Future "convertible engines" may provide HSVTOL designs with a powerplant "that can switch between turboshaft and turbofan modes, eliminating the need for separate lift and cruise engines."
With no air intakes visible "on the wingtip nacelles", this may also suggest some form of hybrid-electric propulsion for the rotors, which would use the main jet power system to provide "gobs of electrical power" to drive the rotors during terminal flight modes.
 The first two aircraft in Bell's concept artwork seem to be manned, with cockpit transparencies and access doors into the main cabin, while the last seems to be unmanned. Thedrive.com explains, "While they all appear to share the same propulsion concept, the three Bell designs otherwise differ in more minor details, including engine intake arrangement and tailfins. In addition, the airframes all look to incorporate basic low-observable features, suggesting that they are designed to offer some degree of stealth, at least when their rotors are folded away."
Jason Hurst, Vice President of Bell's Innovation division, remarked, "Bell's HSVTOL technology is a step-change improvement in rotorcraft capabilities. Our technology investments have reduced risk and prepared us for rapid development of HSVTOL in a digital engineering environment, leveraging experience from a robust past of technology exploration and close partnerships with the Department of Defense and research laboratories."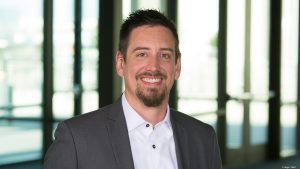 Jason Hurst
The company has detailed aspects of the broader capabilities of its HSVTOL design concepts including an ability to hover while producing limited downwash, cruise speeds of over 400 knots, runway independence and hover endurance, and scalability to suit a range of missions from unmanned personnel recovery to tactical mobility.
Bell says that its HSVTOL aircraft are planned to have gross weights ranging from 4,000 lbs to over 100,000 lbs, suggesting there are other designs in the works, apart from these three.
Bell's concept art shows the larger of the two manned designs "wearing a tail flash"  similar to air-refueling tankers, assigned to Air Mobility Command.
For more information
(News source: https://www.thedrive.com/)