By Chris Stonor
Urban Air Mobility News has covered various stories this year from the U.S. where drones have been used to disinfect American football stadiums and indoor venues before and after matches. Now, it appears the United Kingdom may be following suit with hopes to disinfect major soccer venues, reports birminghammail.co.uk.
UAMN Recent Articles on Drone Disinfection:
https://www.urbanairmobilitynews.com/first-responders/syracuse-company-develops-coronavirus-killing-drone-for-arenas-and-stadiums/
https://www.urbanairmobilitynews.com/experimental-craft/covid-19-u-s-football-atlanta-falcons-deploy-disinfecting-drones-for-sanitising-teams-stadium/
British soccer fans desperate to return to see live matches could be given a huge boost by close friends, Robert Causer and Simon Whitehouse, who are hoping to use drones to disinfect such venues.
At present, the new UK lockdown 'tier' rules, starting this week are: (from the BBC website).
Some soccer clubs can welcome limited numbers of spectators back into their grounds. Arsenal have confirmed the club will be the first Premier League side to have home fans at the Emirates Stadium, for the Europa League tie with Rapid Vienna on December 3rd.
The first Premier League fixture to welcome fans could be West Ham v Manchester United on December 5th. Six English Soccer League matches could see the return of fans on December 2nd with Luton, Wycombe, Charlton, Shrewsbury, Cambridge and Carlisle all placed in tier two.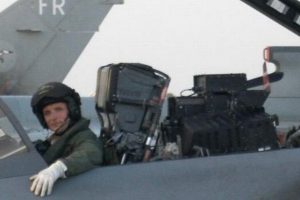 Former RAF pilot Simon Whitehouse
In tier one, a maximum of 4,000 fans will be allowed at outdoor events – though no clubs are currently entitled. Up to 2,000 people will be allowed in tier two areas but none in tier three.
Simon Whitehouse, who left the RAF after a distinguished career as a Tornado flyer, is now a British Airways pilot, but has been stood down since April due to the current Covid-19 crisis. After Rob Causer was made redundant from his job in the aerospace industry during lockdown, the close friends decided to launch their drone company called Drone-Serv.
Whitehouse explained, "We are looking at using drones to disinfect stadiums. They do this at the Mercedes-Benz stadium in Atlanta, USA. It saves a lot of time cleaning the seats individually. We could do this with football stadiums and indoor arenas like the NEC and NIA in Birmingham. There is so much scope at the moment for drones."
Rob Causer, added, "We are also looking at agriculture and the sanitisation of large areas similar to crop spraying while the pandemic continues.We are really excited at what the future might hold."
Visual presentation
https://www.youtube.com/watch?v=MKZ6SOX2EZ8
For more information
(News Source: https://www.birminghammail.co.uk)