By Chris Stonor
Metro Hop's German division, Metro Hop Technik GMBH, has been awarded a grant from the European Space Agency's business incubation centre (ESA BIC), reports a company press release.
The German start-up, based in Northern California, is one of dozens of transformative technology companies that have received grants through ESA BIC Bavaria, one of the "most successful incubation centres in Europe."
Since 2017, Metro Hop has been developing an all-electric short takeoff and landing passenger and cargo-carrying aircraft with a patented Active Landing Gear system. This is used to accelerate the plane to flight speed on takeoff and decelerate the plane after landing. The system also does away with the requirement for propeller-based ground acceleration and deceleration currently used in conventional planes. The full-size prototype can takeoff from a 25-metre rubber roll-out airstrip.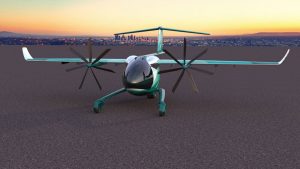 The aim is for the plane to cruise up to speeds of 400 km/hr with a range of 200 km using present battery technology. The craft have been designed to takeoff and land at existing airports, on small supplemental landing pads, and on dedicated MetroDocks.
Due to the almost silent takeoff and landing, this allows the electric plane to operate within the most populated locations both day and night.
Bruno Mombrinie, Founder and CEO of Metro Hop, said, "We understand that systems grounded in current technology with novel and practical application allow for greater success, easier development, and a clear path to certification."
He continued, "Therefore, we welcome this vote of confidence from ESA BIC and we very much look forward to working together to get our wings in the air."
Part of the grant will be used to open an office at the German Aerospace Centre (DLR) in Oberpfaffenhofen and to support the continued development of Metro Hop's portable rollout airstrip to accommodate the prototype designed plane.
Visual presentation
https://metrohop.aero/metro-hop-in-action
For more information