By Chris Stonor
Japanese eVTOL designer SkyDrive has joined a recently-formed group aiming to commercialise passenger eVTOLs in the Japanese Osaka region, reports a press release. An objective is to create a flying service for the Osaka-Kansai World Expo in 2025.
The group, which held its inaugural meeting last week, has been established by the Public-Private Conference for Future Air Mobility. First launched in 2018 by the Japanese Ministry of Economy, Trade and Industry (METI), members include Uber Japan, Boeing Japan, Japan airlines and Subaru. The objective has three steps. First, to create a business cargo service by 2023; followed by transporting people around rural regions; and finally within urban areas.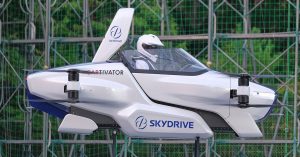 Latest addition SkyDrive, is part of the Toyota-backed start-up Cartivator, supported by an initial USD37 million investment. SkyDrive aims to certify its design, which fits four pairs of contra-rotating propellers into a compact four-metre square for use in dense urban areas, by 2023.
With investment from many Japanese organisations including Obayashi Corporation, NEC Corporation, Sumitomo Mitsui Financial Group and the Development Bank of Japan, SkyDrive intends to continue developing its technology for applications in both cargo and passenger mobility.
In May, the company launched sales of its initial cargo drone model, capable of moving a 30-kilogram payload at 40 kilometres per hour for a 15-minute flight, intended for deployment in Japan's more mountainous and remote regions.
Skydrive's website states, "In the future, we will also develop products that can carry more than 100 kg depending on the need of our customers."
Visual presentation
https://www.youtube.com/watch?v=_q4wJkOCRs8
For more information