By Chris Stonor
Urban Air Mobility News featured last week a recent start-up from Switzerland called Manta Aircraft. The company is in the early stages of developing a "family of hybrid eV/STOL aircraft." The response from social media to the story has been particularly positive, especially from Linkedin. While, Manta has been "in media clear sight" for some time, very few outlets had covered the story until the UAMN article.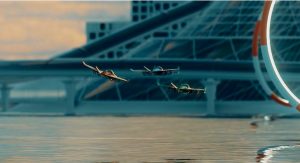 ANN-1 – Racer Craft (Single Pilot)
UAMN Article on Manta Aircraft:
https://www.urbanairmobilitynews.com/experimental-craft/manta-aircraft-promise-sleek-beautiful-ev-stol-future-with-swiss-elegance-and-precision/
This week the company tweets on its Twitter Account, "1:3 scale demonstrator, in the hangar, is almost 3m long. We are very excited about the first tests!" This demonstrator is for the company's ANN series, a single piloted "racer craft" (ANN-1) and a two-piloted personal/utility one (ANN-2).
Manta Aircraft was formed over a year ago by four Co-Founders including Lucas Marchesini, the company's CEO and CTO. The company website explains, "Manta Aircraft SA is an engineering design and technology company active in the development of high-tech multi-purpose platforms for electric and hybrid-electric flying vehicles."

ANN-2 – Personal and Utility Craft
It goes on to say, "Present programs are focused on the development of high-performance hybrid eV/STOL aircraft  – vertical and short take-off and landing – designed for personal mobility with wide regional range. These aircraft can be developed also in the "utility" category with versions for special purposes such as environment surveillance, emergency assistance, search and rescue or any other special operations."
UAMN wish the company all the luck needed to develop Manta and "its family of craft" and will follow developments with great interest.
https://twitter.com/MantaAircraft