By Chris Stonor
The United States Air Force (USAF) Agility Prime program is to trial Metro Hop's "unique landing gear" that allows its all-electric, short takeoff and landing (eSTOL) aircraft to fly up to 250 mph with substantial payloads, while operating nearly silently out of small spaces, reports a press release.
Metro Hop is partnering with Auburn University's Vehicle Systems, Dynamics, and Design Lab (VSDDL) to validate the landing gear design. VSDDL will use its flight simulation facilities and software to test it under various conditions during the takeoff and landing phases of flight.

Metro Hop CEO and Founder, Bruno Mombrinie, commented, "We are grateful for this support from Agility Prime and are thrilled to be working closely with the VSDDL team at Auburn University to move our project forward." Adding, "This is the first step among many: let's fly!"
Dr. Imon Chakraborty, assistant professor in the Department of Aerospace Engineering at Auburn University and director of the VSDDL, added, "We look forward to using our recently developed reconfigurable flight simulator to give us precise measurements of Metro Hop's flight capabilities and allow us to aggregate essential data on the plane."
After the initial phase of testing is completed, Metro Hop will move forward with construction of a fully operational landing gear set and begin landing-drop and taxi testing.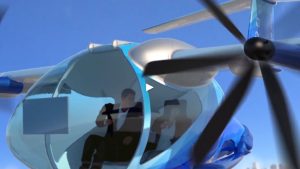 Footnote
The United States Air Force recently launched Agility Prime, coining it "a non-traditional program seeking to accelerate the commercial market for advanced air mobility vehicles."
Agility Prime aims to bring together industry, investor, and government communities to establish safety and security standards while accelerating commercialisation of this revolutionary technology. Agility Prime counts the Federal Aviation Administration as one of its partners, who sees tremendous value in this program for civil aviation applications.
Visual presentation
https://www.youtube.com/watch?v=5jXAnDCamPw
For more information
Read this article
https://robbreport.com/motors/aviation/metro-hop-estol-electric-aircraft-1234590659/