By Chris Stonor
A team of students from the Netherlands, Delft University of Technology, has revealed a new flight-ready prototype hydrogen drone as well as a full-scale aircraft, reports h2-view.com. A unique feature for both of these craft is that they're powered by liquid hydrogen.
AeroDelft are exhibiting at a summer event dubbed "Cleaner Skies" on Sunday, July 31st in their locality, that allows the Dutch student team to showcase the progress they've made with these hydrogen aircraft including the construction of the prototype drone which is close to carrying out its maiden flight.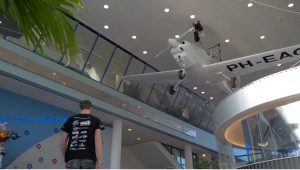 Group's Workspace
Additionally, AeroDelft is to reveal a video of its new aircraft, the Phoenix FS, showing how the group will make it fly on liquid hydrogen in the future. The group is also expected to host a panel discussion about the testing and certification of experimental aircraft in the Netherlands in light of sustainable development with industry experts.
Visual presentation
https://www.youtube.com/watch?v=HfHvHNf29og
https://www.youtube.com/watch?v=HLo4JHqRWZ0
For more information
(News Source: https://www.h2-view.com)