By Chris Stonor
Caravella Aerospace continues on its mission to develop a 2-seater partially electric roadable aircraft called the CaravellAir, reports a company website.
The company explains that a roadable aircraft "combines an aircraft's ability of flight with the on-road driving capabilities of an automobile." Joe Caravella Jr, owner of Caravella Aerospace, explains, "The CaravellAir integrates car, plane, and motorcycle components into one vehicle that can drive or fly on demand."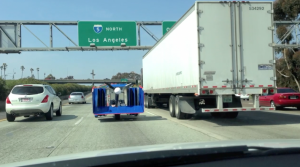 The company, based in Sherman Oaks, California, has already developed a one-seater prototype of the CaravellAir that has been street legal for eight years and road tested for over 3000 miles. The prototype has a propeller drive system that is connected to a motorcycle engine which can push the craft above 80 mph. While on the road, speeds of up to 70mph has been achieved.
Recently, the company presented the roadable craft at the SAE 2020 AeroTech Digital Summit in June. Caravella Jr. described this prototype as "a proof-of-concept and stepping stone to a future 2-seat certified, partially-electric vehicle."

The CaravellAir's folding wing design is sound and has been flight proven on aircraft such as the Terrafugia. If it successfully finishes development through flight testing, certification, and production, the result will be an affordable, efficient aircraft that will add greatly to the growing market for privately owned roadable aircraft.
Visual presentation
https://www.youtube.com/channel/UCU0LhbFmvHYCVRxilaehg0Q?feature=emb_ch_name_ex
For more information