By Chris Stonor
The dream of flying cars parked in a driveway and then zipping around the skies above never leaves the imagination, fueled by those TV Jetson cartoons from the 1960s. Yet, some remain cynical about whether such designs will ever take off in a commercial market and the dream is merely a dream and will always remain a dream. The Hover drone taxi protype seen in a recent video below is yet another example.
Developed by Hoversurf, a company founded in 2016 by Russian inventor and businessman, Alexander Atamanov, this prototype "plays the role of a flying laboratory," says the marketing blurb.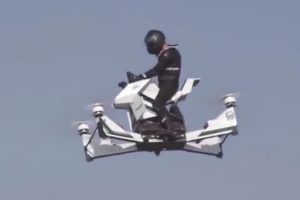 Legendary Hoverbike
During current trials, the emphasis is on the lift and cruise flight mode and the functioning of the parachute, fired if the Hover drone gets into difficulty at low altitude. The dimensions of the aircraft are comparable to those of a passenger car. This allows the Hover to be parked in a parking space, maneuverer around the lot or drive into a garage, and then later move out into the street.
The actual drone flight uses low-noise electric motors employing the "Venturi effect" and apart from carrying passengers can also transport cargo.
Hoversurf are legendary for designing the potential "propellor limb-crushing" Hoverbike which last year, much to the surprise of many, favoured curry with the Dubai Police Force. Unfortunately, a Youtube video that then went viral, showing the craft crash, did not help matters.

Design for a Proposed Air Ambulance
But like with so many flying cars, whatever the design, the public are told it will soon be on the commercial market and ready to purchase. Unfortunately, present flight rules and regulations slow down that process. The dream versus the reality rarely compromise.
One poster on Linkedin writes, "I think the guys at HoverSurf are on the right track. The twin racing seat layout looks much more comfortable then any other eVTOL concept I have seen yet." And continues, "Seems like there is some shielding from the propellers too. Definitely would prefer to fly in this then the ehang."
Each to themselves.
Watch Video
 For more information