By Chris Stonor
U.S. JetPack Aviation introduces The Speeder, a new vehicle the company describes as "The world's first flying motorcycle", which the company hope will be used for both recreational and military purposes, reports a press release. The company claims The Speeder is fully stabilised and is "smaller, faster, and easier to fly than any other aircraft in its class!"
Jetpack Aviation says that "flying the Speeder will be just like riding a motorcycle, but in the sky." That "it will take off from practically anywhere and can fly at over 150 mph and up to 15,000 ft!"
The company website explains, "We plan to build two versions of the Recreational Speeder. The 'Ultra-light Version' (UVS) and the 'Experimental Category Version (EVS).' The Ultralight Version (UVS) will not require a pilot's license to operate – all training will be provided by JPA or one of our authorised training centres. The Ultralight version will be limited to carrying 5 gallons of fuel and to 60 mph flying speed. "
The website goes on to say, "The Experimental Version (EVS) will require a private pilot's licence to fly and will have no fuel or speed restrictions. As the owner/pilot of the EVS we will host you in our manufacturing facility and you will be part of the aircraft completion process. This will satisfy the FAA rules around Experimental aircraft production."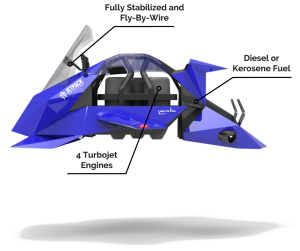 Jetpack Aviation even suggest cases where The Speeder could be used.
Getting a paramedic to their patient faster
Transporting the patient to hospital faster
Resupply between moving ships, faster and more cost effectively than a helicopter (and the flight deck does not need to be fully activated)
Medevac wounded personnel from battlefield to level 2 or 3 aid station
Moving equipment or cargo into position where it would be inefficient or too risky to use a helicopter
The company is so optimistic by their new creation, it is offering the public an opportunity to pre-order The Speeder now.
Unfortunately, the public don't seem as excited, judging by some of the Youtube comments including:
: Preorder now, and you will have it 20-30 years later
: 20 minute endurance, no wings to glide, or a large rotor to auto-rotate. If the engine quits, you drop like a rock. No, thank you.
: Looks highly uncomfortable. Jet exhausts are blasting into your chest. Surely there's a better design than this.
And most cruelly:
: The Nigerian scammers are getting much better at CGI.
Others are not so cynical.
: The design of the speeder leverages what they already know and did for the jet pack they already make, so they can make the speeder easy. I would love to see a functional prototype as soon as possible. Any chance to disclose when can that happen?
: For me this is the face of the future! I can't wait
Umm… but hey, the animated video is great, so worth following the developments for that…
Watch video
https://www.youtube.com/watch?v=URgznwTph6M
For more information